For three seasons, Friday Night Lights made an impression on viewers by depicting fascinating, layered characters and their lives in a small Texas town.
On last night's fourth season premiere (on NBC, least, the show has already finished its run on DirecTV), however, it may have accomplished something even more extraordinary: in the course of one episode, it made Dillon High School into the enemy.
With Eric's move to East Dillon, FNL has replaced Panther pride with Lion... something. Who knows what? The program is too dilapidated and poor to even have a tagline just yet. Forget a full heart and clear eyes.
Eric will just settle for a complete roster at the moment.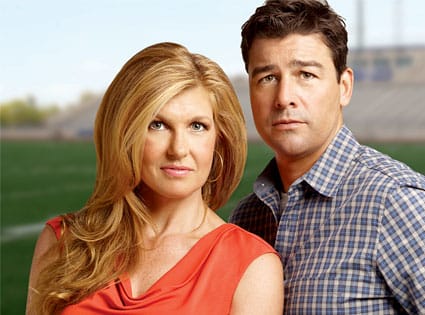 Granted, the series had to take a few creative liberties to set up the extreme dichotomy between West and East Dillon. J.D. McCoy, so quiet and underdeveloped last year, is a full-fledged, stereotypically pompous quarterback now. ("This is my Dillon now!" he yells at one point, almost cartoonishly so.)
But his father has always been an ass, so it's not hard to see this personality rubbing off on his son.
As for the characters we've known for so long, life isn't great for Saracen or Riggins. Neither is happy at college, but Tim actually does something about it: he drops out.
With no room at home for him, Tim lands on his feet by landing in bed with a local bartender. Are we to assume that he and Lila are over because each has gone in a different college direction? I can buy that. I'd rather make that assumption than think Riggins would cheat on the lovely ex-cheerleader.
Tim's exploits allow another new character to enter the fray: Becky Sproles. Let's hope Riggins can keep it zipped up for this young student, no matter what signals she gives off down the line.
Then there's Vince. It should be interesting to see how Friday Night Lights handles the topic of race, something that hasn't received much play in the past. What's been so enthralling about this drama is not that it puts a fresh or unique spin on such issues; just that it takes us so fully into the minds of the characters involved in them.
Because, in the end,
FNL
comes down to those characters, specifically Tami and Eric. Their marriage is the most realistic depiction of a relationship on television.
With the pair at rival schools, we can expect some arguments to arise between them, but we can also expect these debates to be handled in a mature, loving way. That's why we'll follow Eric to East Dillon or East Asia.
The team and the school may change, but his fierce intensity and loyalty will remain the same. With Friday Night Lights back on network TV now, we can't wait to become immersed in his personal and professional life again.
WHAT DID YOU THINK OF THE EPISODE?
Matt Richenthal is the Editor in Chief of TV Fanatic. Follow him on Twitter and on Google+.