No, the headline above does not suggest the name of a new NCIS spinoff (although who are we kidding, we'd probably watch it). But the show is headed to Mexico Tuesday.
The very popular Abby Sciuto (Pauley Perrette) will headline the adventure next week, along with Alejandro Rivera (Marco Sanchez), who we met in this week's "Obsession."
Visiting D.C., the Mexican justice department official invited Abby to speak at a symposium in Mexico, but the opportunity to share her vast knowledge isn't the only appeal.
"Abby thinks he's really cute," says Pauley.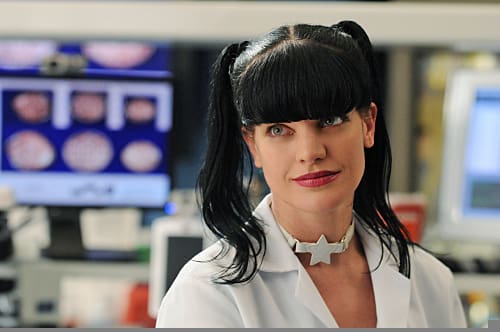 Will sparks fly between Abby and Alejandro? Or Abby and McGee?
But her big trip south of the border to speak to forensic students isn't entirely an Abby-centric story line. It also presents Vance (Rocky Carroll) with a golden opportunity.
"Vance decides to take a peek into Gibbs' (Mark Harmon) file to learn about his past," Rocky says, and what he discovers provokes him to send Abby's ex, Agent Tim McGee (Sean Murray), down to Mexico with her for protection. Hmm.
But, Rocky tells TV Guide, "Vance has an ulterior motive."
Not surprisingly, McGee is bothered by Abby's crush. "Abby and McGee still love each other very much and if there's ever another guy around, he's threatened," says Pauley.
Even so, the former lovers end up sharing a bed in a Mexican motel, which "is awkward, especially for McGee." Like "Jet Lag," expect the specifics of that to remain vague.
What does Director Vance find out about Gibbs?
The big Mexico mystery involves a bag of evidence (shattered glass, grass and soil samples) that Abby brings back, resulting in a confrontation with Gibbs the following week (May 18) which also reveals the murder of a former agent we haven't seen in some time.
"It sends shock waves," Carroll says. "We try to put a stop to it before it happens again."
Confused yet?
"You'll see why all these things are important," says Pauley Perrette, hinting at a bombshell in the May 25 finale that sends Gibbs to Mexico and forever changes Abby's life. "Pay attention to everything! I just hope Abby survives emotionally."
Thoughts on these NCIS teasers? Comments, theories and opinions are welcome!
Steve Marsi is the Managing Editor of TV Fanatic. Follow him on Google+ or email him here.