If you are waiting to catch up on Dexter season four, stop reading right now...
Despite her character's on-screen death on last year's final Dexter episode, sources have confirmed to Entertainment Weekly that Julie Benz will appear on the fifth season premiere this fall.
How is that possible? Insiders say she won't be alive, nor will she be a ghost. (Says producer Chip Johannessen: Only Harry gets the special vision treatment on the series and "we're not going to do some ghostly thing with her.")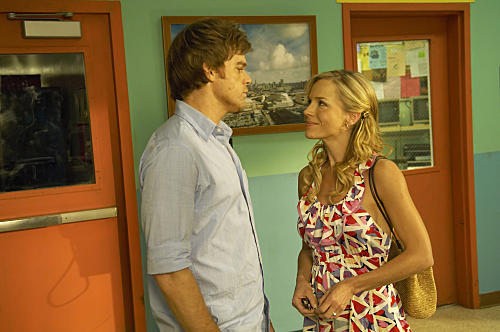 Benz is signed on to anchor ABC's No Ordinary Family and a Showtime simply adds Rita will pop up to "help Dexter deal with his newfound feelings of loss and grief - emotions he has never really felt before."
Guess we'll need to wait to find out more. Can't wait!
Matt Richenthal is the Editor in Chief of TV Fanatic. Follow him on Twitter and on Google+.