Two people took a beating and three people were shot this week on Justified and Raylan Givens had absolutely nothing to do with any of it? 

Apparently if you take away the man's hat, you take away his ability to cause trouble as well. 

With his hat on (and likely drunk), Raylan starts a fight with two guys who promptly give him a beating.  Those boys take his hat and the next time someone comes looking for a fight, Duffy's associate – Billy Mac, Raylan professes "I already got one ass kicking.  I'm not looking for another."

Who is this man who backs away from a fight?  That's not the Raylan Givens we've come to know and love.  I'm not complaining, but it was an interesting angle to take with Raylan.  Almost like Sampson without his hair, if you take away Raylan's hat, he turns into a peace maker. 
Justified had just as much action, guns, bad guys and Raylan one-liners as any episode we've seen so far, but for once, Raylan was able to stay out of trouble.  Oh, how Chief Mullen would be proud! 

Actually, during the final scene with Duffy waiving his gun around like a lunatic, I kept thinking to myself that Raylan had made it through almost the entire episode (aka his vacation) without getting into trouble.  Technically, he still did.  He did nothing but protects his ex-wife and then his ex-wife's new husband.  Only brandished a weapon (not his) once and that was at Billy Mac and no one is really going to make a fuss over that.
Nevertheless, it was still funny that Raylan ended the episode surrounded by three men who had been shot, even if he wasn't the one who pulled the trigger for once.  I can just see Mullen berating Raylan in his office right now.
Jesus, Raylan, do you not understand the meaning of vacation?!?!  Most people when they go on vacation find some nice warm place to relax, not wind up surrounded by guys with bullets in them!  Could you please try to go one week without someone getting shot in your presence?
I did not expect things to wrap up in a neat little bow this week, so Gary getting off the hook and Winona giving him a loving and worried embrace upon being brought home by Raylan was a bit of a surprise.  There were two things I expected to happen.
First, the story arc – Gary in trouble with the 'Dixie' mafia – seemed like one that would be more than just one episode.  Yes, technically it was started a while back when Raylan ran the names for Winona and then continued last week when Duffy visited Winona.  However, it seemed like something that would run longer.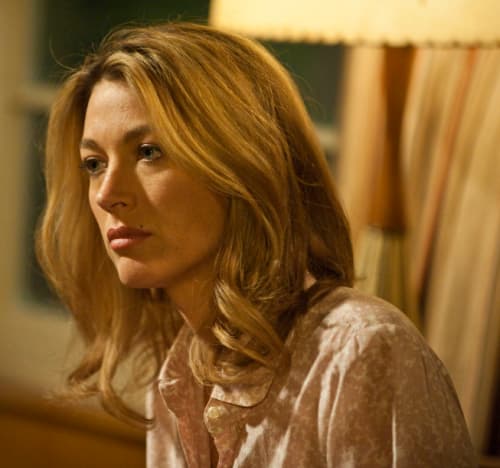 Second, I anticipated that Gary's actions would lead to conflict in Winona's marriage.  This, of course, would lead to a split and possible reconciliation with Raylan.  Finally, there'd be a showdown between Ava and Winona.  Who would win?!?  My money's on Winona. 

The latter could still happen (maybe not all of it, but Winona could easily still split with Gary).  If it doesn't, they're going to have to find another way to weave Winona back into the story.  Either way, I doubt we've heard the end of Winona and/or her emotions regarding Raylan.

So, we ask you, loyal readers, are you rooting for Ava or Winona?  We know Chief Mullen's answer, whichever one keeps him out of trouble, but is that even possible?  Only if Raylan doesn't wear his hat (something he was able to get back without incident)!