The Good Wife Season Finale Review: Decisions, Decisions...
Matt Richenthal at .
The season finale of The Good Wife was all about choices.
Some were difficult, some were easy, but all contributed to a fascinating episode that left a number of storylines dangling, in a suspenseful manner, for next season. Let's go over each below...
Peter or Will? Who would Alicia choose, that's how CBS hyped this season-ender. But no decision was officially made, even though it seems unlikely Alicia won't start season two by her husband's side. I loved the way she cut to the practical chase with Will on the phone. Almost any other show would have gone through the typical romantic paces, but The Good Wife was confident enough in its storytelling and its audience to trust that we all get it:
Alicia should be with Will, there's no doubt. But poetry is easy, as she said. Parent/teacher conferences are hard. Alicia needs an actual game plan before she can get on board with changing teams. What a great, mature way to depict the dilemma.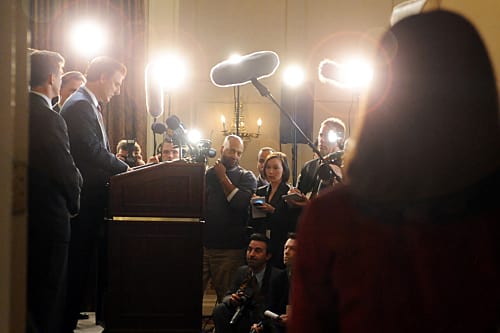 Men or women? We kid, as this wasn't the decision Kalinda had to actually make on the episode. Instead, after pretty much choosing both genders, Kalinda made up for a personal betrayal of her cop friend by possibly contributing to a murder. Is the wife that set up her husband to be killed a despicable individual? Yes. Does she deserve to die for her sins? That's debatable and that's what makes The Good Wife so interesting.
It's not afraid to tackle serious ethical quandaries and it's not afraid to place its main characters squarely in the middle of them. For Kalinda, it was fitting that her personal storylines were tied in to her professional duties. She tries to be all-business all the time, but it's not easy.
Love or hate?
This is the decision viewers face when it comes to Cary. He's part of the opposition now, but he's also a well-written character, someone far more layered than Childs. We know him, we understand his motivations and I can't wait to watch him and Alicia square off more in the future.
To settle or not to settle? This was my favorite exchange of the entire first season. After learning they could get their (guilty) client a $500,000 settlement, Alicia asked Will if they'd take it. His immediate, casual response? I doubt we could get more from them.
To Will and Diane, there was no decision to be made. They represented a client and their responsibility was to defend her. Simple. Open and shut. The cut Lockhart and Gardner receive from that figure might even save a few jobs at the firm. There are many layers to this ethical onion.
This scene illustrated everything that has made The Good Wife TV's best new show. It's mature, it's intelligent and it lives in an ethically grey universe.
I could have done without Will's second phone call to Alicia. We didn't need to end the episode on such a blatant cliffhanger. But that's a small complaint for a series that should win Best Drama at the Emmys this year and whose writing and acting is so refreshing to watch on a weekly basis.
Matt Richenthal is the Editor in Chief of TV Fanatic. Follow him on Twitter and on Google+.