Douche-pocalypse.
With a tip of the hat to Barney and one of our favorite How I Met Your Mother quotes from this past season, that's the word that comes to mind when Scott Disick starts acting up.
Last night on Kourtney & Khloe Take Miami, we were treated to his "sociopath" tendencies to the extreme. Khloe and E! are trying to over-hype it, but the dude is a loose cannon.
One would think Kourtney Kardashian would want to support her baby daddy's club opening, but no, she goes to Chicago and pushes baby Mason around walking next to Khloe.
The girls are in Chicago to explore Khloe's obsession with all things forensics and serial killers ... obviously. Khloe soon meets with a renowned doctor to do some investigating.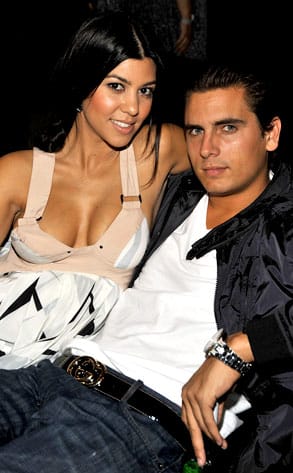 Scott Disick: One great reality TV villain.
As the doctor is reading the script and trying real hard to keep a straight face explaining what a sociopath is, Khloe is having flashbacks and relating everything to Scott Disick.
She, and the producers, are really out to sabotage this guy. They even called the episode "Scotts-o-phrenia." What are you trying to make us think about Scott, E! network?
In Miami, Scott's friends fly down for the opening of his club "MIA." Scott feels the need to prove to the boys that he's not a boring dad and can still hang by chugging Patron.
Scott gets drunk. Scott calls one of the girls at the club hooker. The girl cries and goes home. All the Dash employees seemed rather ditzy and dramatic. So it goes, as usual.
Later, Khloe point blank tells Scott that she thinks he is a sociopath. He freaks out. She tries to embarrass him at work. This is a family feud that won't end anytime soon.
All Kourtney wants to do is protect little baby Mason. Khloe needs to tone it down. Scott needs serious medication ... or to be rolled up in a carpet and tossed off a bridge.