Scoundrels Review: "Mary, Mary, Quite Contrary"
Steve Marsi at .
Sunday on Scoundrels, the Wests learned just how hard it is to not only go straight after a life of crime, but to stay out of trouble, even if you are innocent ... for once.
The episode, "Mary, Mary, Quite Contrary," was an improvement on the pilot, with the characters developing and the show overall finding its tone and footing a bit.
Cheryl has laid down the law and is leading by example (as a supermarket cashier) as she stresses how important it is that the family become upstanding citizens.
Here's a synopsis of the family members' endeavors to that end: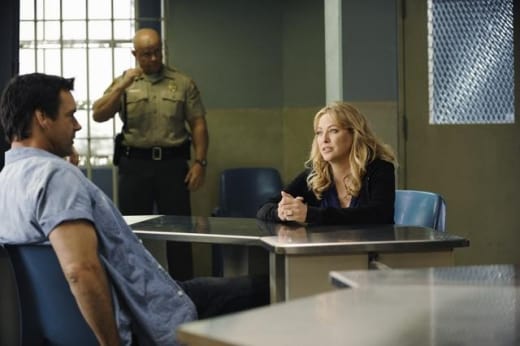 Virginia Madsen is carrying Scoundrels so far. Can she keep it up?
Cheryl's tenure at Big Foods hits a snag when she realizes her boss is a perv. Standing up for the female workers, Cheryl makes herself a target and later the prime suspect in the theft of a truck load of toilet paper. Sgt. Mack hauls her in for questioning.
Logan is still having a relationship with Valerie, the principal of Hope's school and has been with her for the last seven years. After Hope stops blackmailing them, he wishes she would resume that, as Valerie starts talking about settling down.
Working off his debt, Cal just can't keep out of trouble, even with Mr. Hong's wife. His gig as a pool boy soon involves more than mixing the chlorine.
Heather's flipping burgers, but her modeling dreams won't die. She enlists Hope and her friend to take new some new shots for her, but a jealous Hope later destroys the photos. Heather is later approached by a customer about a modeling job, though.
After a little detective work, Cheryl finds the man responsible and gets the stolen items back, and in the process gets her job back. We learn that Wolf was behind it.
It was an enjoyable episode, but can it be sustained?
Virginia Madsen is terrific and by far the most appealing part of the show, and there were decent dramatic moments and good laughs in "Mary, Mary, Quite Contrary."
Certain things still need to be worked on, however. It's unclear whether we're supposed to laugh at, love or hate the characters sometimes. Are they the underdogs?
The Wests against the world could work under the right circumstances, but Sgt. Mack's threats seem a little forced, as did the perverted boss causing Cheryl problems.
It was predictable and uneven at times. There are some fun characters and potentially entertaining stories to be told, though, so here's hoping the positive trend continues.
Steve Marsi is the Managing Editor of TV Fanatic. Follow him on Google+ or email him here.