Last night, the Los Angeles Lakers won their 16th NBA title, setting off celebrations throughout the City of Angels. It was a bittersweet night for a former Laker Girl, however.
Alexie Agdeppa as she became the first So You Think You Can Dance contestant eliminated by the voters this season, after the 26-year-old cutie's spunk couldn't save her.
The three judges, who unanimously chose to send her home, didn't foresee a long run for the effervescent former cheerleader, even though we were a bit surprised at the decision.
After the Top 11 performances, we thought Melinda Sullivan and Adechike Torbert stood the worst chances of advancing, with Cristina Santana potentially at risk as well.
Melinda and Cristina joined Alexie in the bottom three.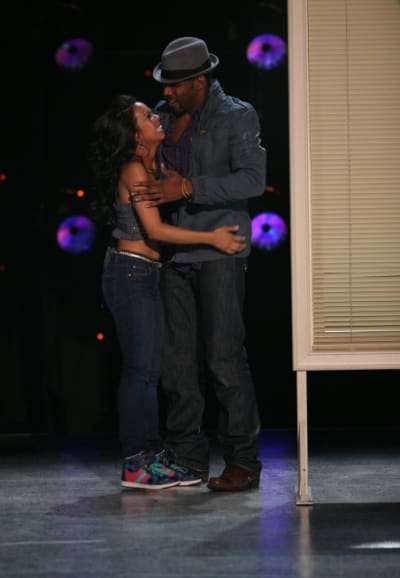 It was one and done for Alexie Agdeppa and Twitch Boss.
The top 11 opened the show dressed in white and gold attire, with the guys outshining the girls as much if not more so than the night before, even during a group performance.
Based on this first elimination show of the new format, it looks like the all-stars will be on the sidelines Thursday nights. Instead, we quickly run down who's safe and who's not:
Alex, Robert, Lauren and Kent are safe, while Melinda has to sweat it out. Billy and Ashley are in the clear. Alexie not so much. Jose and Adechike are all good, leaving Cristina.
It's interesting that the voters placed all girls in the bottom three. It's not that they're bad, but this tells you a lot about the strength of the guys, current crop and the all-stars.
After some filler - Frank Sinatra's "That's Life" performed by Karine Plantadit and Keith Roberts, "OMG" by Usher and the premiere of the video for "Somebody to Love" by Justin Bieber, the bottom three danced for their lives and we held our breath.
Melinda tapped to "I Got the Feelin'" by James Brown. Alexie chose "I've Been Loving You Too Long" by Otis Redding. Cristina did her salsa to "La Guarachera" by Celia Cruz.
In the end, Alexie was eliminated rather abruptly.
Standard fare, but you've got to give Fox props for making the Thursday shows more than just a complete waste of time. Solid dancing and musical interludes all around.
What did you think of the So You Think You Can Dance results show? Did the judges make the right decision? Who do you think deserved to go home?
Steve Marsi is the Managing Editor of TV Fanatic. Follow him on Google+ or email him here.