The Bachelorette Review: Welkome to Krazy Town
Steve Marsi at .
The fourth episode of The Bachelorette's current season might have seemed boring, but a dose of the insane helped liven things up in short order. Kasey, we appreciate it man.
Be sure to check out our celebrity gossip site's Bachelorette recap for the full extent of his craziness, but we'll sum it up for you here by saying we'd never seen anything like it.
After earning a coveted one-on-one date, Kasey, who had appeared harmless up to this point, burst out into song - twice - despite having the worst singing voice of all time.
Moreover, he proceeded to state his mission with Ali Fedotowsky is to "guard and protect her heart" - despite knowing her all of a few days - approximately every 10 seconds.
It gets weirder still!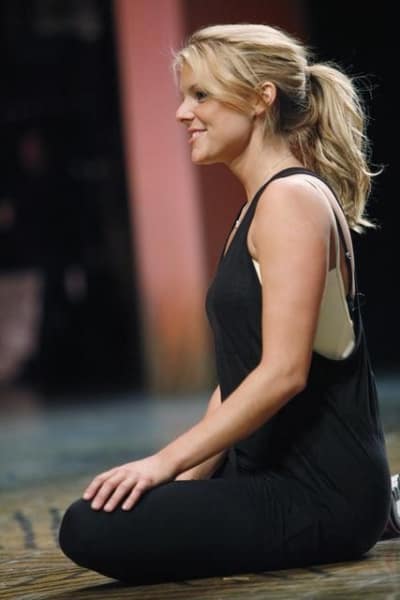 Ali Fedotowsky is easy on the eyes ... but does she have eyes for these guys?
Dude actually went so far as to get a shield and a heart tattooed on himself for her. Then he was confronted by the guys after lying about it. You gotta love The Bachelorette.
We didn't peg Kasey at all for this kind of nut job, but they really do keep the show interesting by keeping you on your toes. Clearly Ali was a bit thrown off by it as well.
Chris Lambton and Roberto Martinez, meanwhile, aced their dates (individual and group, respectively), cementing their status as Ali's favorites ... or at least our favorites.
Sometimes it's hard to tell with this girl. We like that she doesn't go out of her way to placate guys who don't impress her, but does she seem a little apathetic at times?
Additional highlights after the jump ...
The Weatherman, Jonathan, was sent packing. He whined all episode.
Jesse went home as well. He was not featured prominently last night.
The guys were legitimately psyched to go around the world with Ali. They seemed legitimately psyched for the Broadway date too, but that had to be fake.
For whatever reason, Kasey was not given a rose on his date with Ali, yet she kept him around for the rose ceremony. They just made that rule up, right?
Roses went to Chris L., Kirk, Frank, Craig, Chris N., Roberto, Justin, Ty and ... Kasey. Somehow he pulled through, much like Justin last week. Amazing!
Steve Marsi is the Managing Editor of TV Fanatic. Follow him on Google+ or email him here.