There were two important developments on this week's episode of The Good Guys:
Dan proved he can actually follow through on impressive, legal police work.
Liz showed she can be more than just a pretty face for Jack to pine over.
We've seen flashes of the first point before, but at the end of "3.52," it was nice to see Dan actually quote the procedural book and act like more than a washed-up cop with an awesome mustache. It's important this series reminds viewers that he truly knows what he's doing, or else we'll never take the guy seriously.
I also liked Dan's speech to Jack about the bad guys just having guns; versus the good guys being a team of dudes with guns. It actually made sense.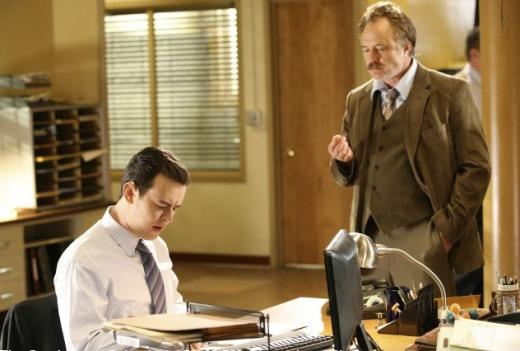 The best part of the episode, though, was finally seeing Liz as more than just The One Who Got Away.
For weeks, without receiving any background on their relationship or on her character, we've watched Jack stress over how to end up with his ex again. That was getting old, so it was refreshing to watch Liz do her job and give us an idea of why Jack would want to be with her.
Sorry about that 69% conviction rate, though, Liz. It might go back up if you can find a witness that doesn't keep forgetting he's under oath.
Overall, a solid episode that helped give characters a bit more depth and establish Dan as an intelligent, albeit eccentric, police presence. Check out a few The Good Guys quotes below from the hour.
Dan: You sure do know a lot about that heroin.
Jack: Thank you. | permalink
Dan: We're on the five-yard line. I can feel it tingling in my loins.
Jack: Another good one for the report. | permalink
Jack: Are you asking me to predict the behavior of a man who uses his service revolver to open a mayonnaise jar? | permalink
Dan: Am I under oath?
Liz: Yes, I'd appreciate it if you stopped asking that question. | permalink
Matt Richenthal is the Editor in Chief of TV Fanatic. Follow him on Twitter and on Google+.