The Secret Life of the American Teenager Review: "Get Out of Town"
Leigh Raines at .
This week on the awkward, drawn-out drama also known as The Secret Life of the American Teenager, everybody found out that Ben knocked up Adrian.  Everyone, that is, except for Ben's girlfriend, Amy.
On a related note: Can someone please explain to me why I still watch this absurd show?
Let's start with ridiculousness number-one. from "Get Out of Town."  Stifler's mom is on this show as a hooker.  Last night, she tried to shed some wisdom to her husband and stepson, but it's hard to take her seriously when she's wearing purple Marabou slipper heels.
Another person, I CANNOT get over is Jack's mom (aka Pam from True Blood, Kristin Bauer).  She's so plain and blasé on the Secret Life.  It's so weird to see when she's usually all vamped up in her southern drawl, spouting witty lines. I'm waiting for her fangs to pop out! But no, suddenly she's lecturing Jack about safe sex.  Speaking of which, why does she hate Grace so much?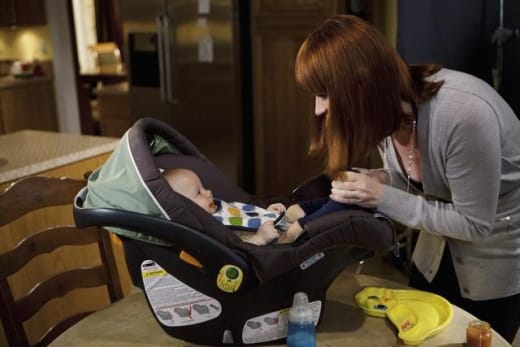 Perhaps it's because Grace is annoying.  While she is a well-intentioned, very sweet girl, she needs to stop pushing her beliefs on other people. Sometimes she needs to just step back and mind her own business.
Nothing else super substantial happened this week. Blossom was slightly less annoying. Ashley and Ricky are still shadily close.  Especially when Ricky is trying to convince Amy to go to New York: "I'll even stay at your house Monday through Friday.  I don't want to, but I will." Oh Ricky, you absolutely do want to.  You're such a creepsauce and I have no idea why I'm still a fan. 
I guess I'm hoping you and Amy will end up together because Ben is just corny as hell.
One amusing part was Amy asking for everyone's opinion.  It was filmed interview style and sort of reminded me of
Mean Girls
when everyone is describing Regina George.  Especially hilarious was Madison, who though Amy going to NYC would be just like
Sex and the City
and they can get an apartment on the Upper West Side.  Like OMG!! Squeals all around!!
There's no way Madison or any of these naïve girls watch Sex and the City. FYI Madison: Carrie lives on the Upper East Side.  Get it right.