Welcome to the True Blood Round Table!
While we've already reviewed the season three premiere in depth, this is True Blood, people: there's always more to dissect!
From hilarious quotes to attractive rear ends, the TV Fanatic staff has gathered to analyze numerous aspects of "Pack of Wolves." We encourage readers to chime in with their take on the following topics...
What was your favorite True Blood quote from the episode?
M.L. House: Easy. Take it away, Pam: "I don't know what it is about me that makes people think I want to hear their problems. Maybe I smile too much. Maybe I wear too much pink. But please remember I can rip your throat out if I need to. And also know that I am not a hooker. That was a long, long time ago."
The Barnacle: Oh, without a doubt, Bill standing up to the werewolves.  "I should warn you, I fed."  Simple. Bad ass.
Mrs. Northman: Sookie's shock at Eric's sexual prowess: Doing this? For the last six hours?!? And then Eric's response, of course: You seem surprised. Is Bill's stamina not enough? I love my husband! (Even if he is a male whore).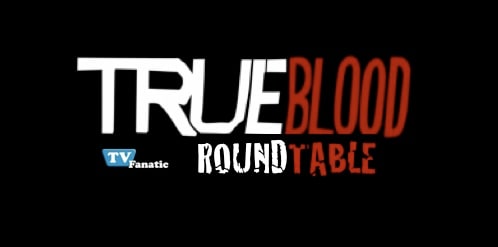 Will Tara live to see next week?
M.L. House: Yes. But a better question would be this: will she ever be the same? It's one thing to have a broken heart; it's another to have a broken heart as the result of your lover's death; and it's still another to have a broken heart as the result of your lover's death because the two of you were under the control of a murderous maenad.
The Barnacle: For sure.  Is there any better pill expert out there than Lafayette?  I'm sure that dude has saved enough people from overdoses to be able to handle our obnoxious Tara.
Mrs. Northman: Of course! Anyone who's watched the previews or read about this season knows that she's going to get freaky with a vamp. 
Sexier backside: Jason or Eric?
M.L. House: Why must we choose? If Eric can have two women at once, can't True Blood fans ogle both these rear ends at once? That's why I did when I set up two TVs side-by-side and hit "rewind" on the DVR one or two dozen times.
The Barnacle: Definitely, Eric.  And by Eric, I mean myself.
Mrs. Northman: Umm... hello! Mr. Northman. And was this really a question? Was there ever a doubt who I'd pick?
Who faces the more pressing problem: Bill with the werewolves, or Eric with the Queen pressuring him to sell all the V?
M.L. House: Bill with the werewolves. But it's a problem for his love life, not his actual life. Have you seen Alcide topless?!? Sorry, William. But we know who we'd choose if we were Sookie.
The Barnacle: Oh, please, like Eric has a problem.  I'd spend as much time with Evan Rachel Wood pressuring me as possible.  She's as hot as she is a terrible actress.  Good luck, Bill.  Just be glad none of those werewolves work out as much as Taylor Lautner.
Mrs. Northman: Bill has the more pressing problem at the moment, but Eric really has his hands tied with the Queen pressuring him to sell the V. Both these situations are very intense and I can't wait to see how it unfolds!
Will Sam get along well with his family?
M.L. House: Gonna go out on a wild limb here and say no. But perhaps Sam will at least learn a lot more about his shape-shifting past.
The Barnacle: Did you see the way his brother offered him a tire discount?  They'll be besties in no time. 
Mrs. Northman: I am assuming the mechanic is his brother or someone related to him. Otherwise, why would he be so creepy? Plus, didn't the previews show this same guy holding a gun to Sam's head in later episodes?
Matt Richenthal is the Editor in Chief of TV Fanatic. Follow him on Twitter and on Google+.