Bethenny Getting Married Review: "Baby Won't Wait"
Steve Marsi at .
"I don't like any of this and it scares me." - Bethenny
That quote about sums it up, and took place even before her water broke weeks before her due date. It's ancient history now, as we know her baby is fine and thriving, but it was interesting to see this week's Bethenny Frankel drama play out just the same.
Backtracking a bit, we pick up Bethenny Getting Married with the titular character in hard core preparation mode for having her baby, taking a baby safety and CPR class.
The class also teaches moms how to use strollers and car seat safely - all that stuff. Like any first-time parent, Bethenny is nervous that her baby will be safe and healthy.
Fortunately, unlike most of us, she'll have a major boost in that department. We are also introduced to Bethenny and Jason's baby nurse, Gina, who will live with the fam.
Wouldn't that be nice for the first few weeks?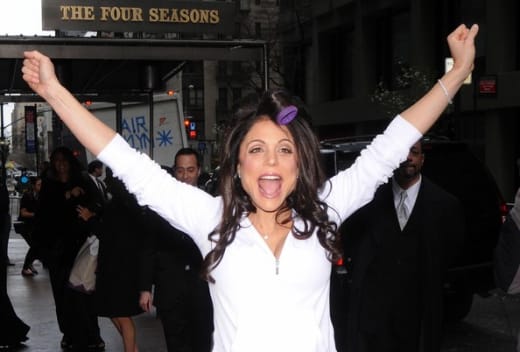 BETHENNY GIVES BIRTH! If it seems like only two episodes ago that she tied the knot, that's because it was. She's cramming as many life milestones into one show as possible.
Like everything else in her life, the fast forward button is soon pressed. Bethenny is still five weeks away from her due date, but goes into labor and freaks out.
Her assistants Julie and Max rush around Manhattan accomplishing baby tasks that hadn't been attended to yet. Again, assistants. We should all be so lucky!
At the hospital, as Bethenny's labor is intensifying, she says, "I want to know how high school girls give birth in bathroom stalls." Don't we all. Gotta love the candor.
She thinks she wants an epidural, but for a woman who has had no birthing classes or any formal instruction on getting through labor, she really is doing well here.
However, they are getting steadily worse. Ten minutes later she gets the epidural and feels 100 percent better. She thinks she'll finally be able to get some sleep. 
Forget about it.
After 21 hours of labor Bethenny is awake and looking quite worse for the wear. Later, at hour 25, Bethenny is scheduled for a C-section. At least it'll be over soon!
Amazingly for a woman who straddled her husband nude and pregnant in the pool on her honeymoon, the C-section and the birth of the baby aren't filmed. Phew.
We don't even get a look at the baby, which is probably for the best. All we see is a little pink box announcing the baby girl's name, Bryn, and her weight, 4 lbs.
Glad they kept that private - and congratulations, belatedly!
Steve Marsi is the Managing Editor of TV Fanatic. Follow him on Google+ or email him here.