Luke may have been the Lions player to leave tonight's episode with a hip flexor, but he was far from the only casualty on an installment aptly titled "Injury List."
First, of course, there was Tami, who seemed utterly taken aback by the notion that she did anything wrong. This is someone whose number-one trait is her empathy - and here was a school board, prompted by Luke's mother, that wanted to punish her for being empathetic.
As the incredible Connie Britton conveyed, Tami wasn't even riled up by this injustice; she was simply in shock over it. You could read the thoughts in her mind, as she didn't even celebrate the maintaining of her job. How can anyone question my intentions here?!?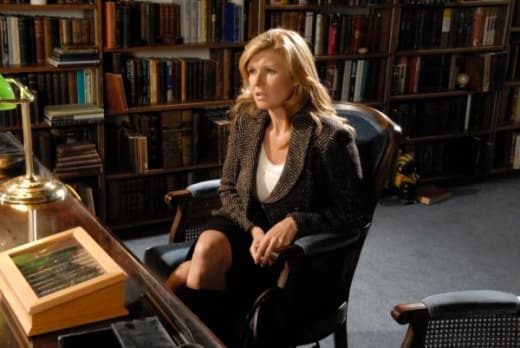 Then, there's Eric. He wasn't there for his wife at the conclusion of the episode because he was experiencing a different kind of emotion: guilt.
Luke may have been hiding his injury, but Eric knows it's his job to know everything that's going on with his football team. He missed this one, and it didn't just cost the Lions a game. It could cost Luke a shot at his scholarship.
Elsewhere, there are few funnier pairings on TV than Buddy and Eric. I can't get enough of the speechless exasperation the coach shows every time Buddy starts going off in the way only he can.
From there, we move to Vince. Michael B. Jordan simply kills any scene in which he cries, always starting off with an attempt to be strong and then just losing it. Without giving us any real background into the history between him and Jess, the show has done a tremendous job depicting their bond.
Sometimes, it's just a stare. Other times, more of a major action, such as Jess visiting Vince's mom in the rehab center. But nothing spoke more to the connection between these two than the fierce, desperate way Jess hugged him once she heard about Calvin.
It's hard to root against Landry, but even he might not be able to compete with the history between these two. (How great was the Landry/Jess dinner scene, with the former's mother asking Jess her take on Obama?)
As for Becky, how ironic: the week after she terminates her pregnancy, she proves that she does, indeed, have motherly instincts. She knew exactly what to say to a confused, wounded Tim.
Finally, there may not have even been two minutes of conversation total between Matt and Julie - but their interaction still spoke to the power of Friday Night Lights.
It wasn't anything original, as Matt gave her the "You complete me" speech. But we know these characters so well, the actors play their parts so perfectly and the filming is done in such an intimate, raw manner that everything feels fresh. It's a cliche-ridden storyline, but it feels utterly original. We're just lost in the emotions of these individuals.
What did you think of the episode? We've collected a few Friday Night Lights quotes from it below:
Eric: What you doing tonight?
Tami: Nothing.
Eric: I'll go get the wine. | permalink
Luke: Dear Lord, please let me get some more drugs before Friday. | permalink
Matt: Hey, Julie, how you been?
Julie: I can't talk to you right now. | permalink
Employee: Did you rob a bank?
Riggins: You're not gonna tell anyone, are you? | permalink
Matt Richenthal is the Editor in Chief of TV Fanatic. Follow him on Twitter and on Google+.