Kourtney and Khloe Take Miami Review: "Jealousy Makes the Heart Grow Fonder"
Leigh Raines at . Comments
"You know I love you, I try to stick it to you whenever I can." - Scott Disick
Any fan of Kourtney and Khloe Take Miami, and we know you're out there, you can admit it, knows that Scott and Kourtney are unstable and have serious issues as a couple.
One minute these two are so low, you wonder how they can even stand being in the same room, let alone date / raise a child. The next, they're riding high, and each other.
This week, the drama escalated at a polo event so staged it was ridiculous, even by reality TV standards. Come on, E!, you can't just craft the locations and stories you want.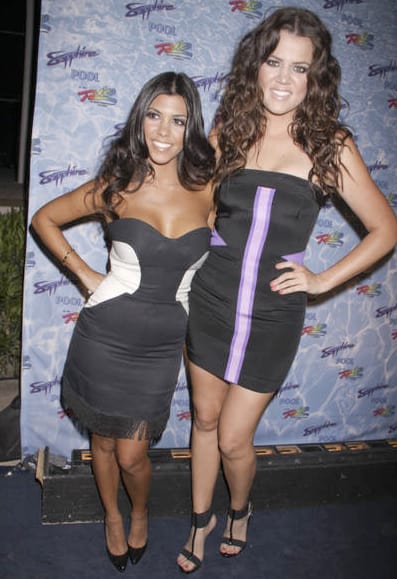 KOURTNEY AND KHLOE: Baby mama and baby talk, respectively.
Cue overt sexual cliches: Kourtney flirts with a hot polo player and laments to Khloe that it felt "sexual" to be up on the horse with guy. Scott does not care. He wants tacos.
Give Scott credit for one thing, though. He knows it makes better TV if he resists Kourtney's taunting and forces her to raise her game - with fake Season 1 lesbian fling Jackie.
Scott comes in and suggests a threesome. Talk about calling her bluff!
Meanwhile, while Scott is wagging his Disick at his baby mama in a scene that is sure to scar baby Mason for life one day, Khloe flies back to LA for a few days to see Lamar.
There, she prances around their mansion in her lingerie and animal print clothing talking like a baby. Lamar kinda just wants to chill with her brother Rob, however. It's cute.
Sometimes, you just wanna make baby talk and get freaky with your husband, but all he wants to do is play NBA 2010 with your younger brother ... who hasn't been there?
You gotta wonder how Lamar's teammates and kids feel about the scenes of them in the bathtub, though. Lamar and Khloe, that is, not Rob. It just feels too private, no?
What do you expect from a Kardashian, though? We digress.