Scott Disick is a giant loser, but he sure keeps things interesting.
The same can be said of many a reality star, come to think of it.
Is Khloe Kardashian even on Kourtney and Khloe Take Miami anymore? Not that it matters, since there was already a Kardashian reality show on E!, and Scott is the star of this one anyway.
And oh, how Hurricane Scott is about to thrash South Florida.
Sunday's episode, entitled "Kourtney's Denial," featured her baby daddy constantly - forgive the tie-in with his club name - MIA. At first, Kourtney says she doesn't care, and that Scott doesn't need a babysitter, etc. But then the evidence starts to pile up.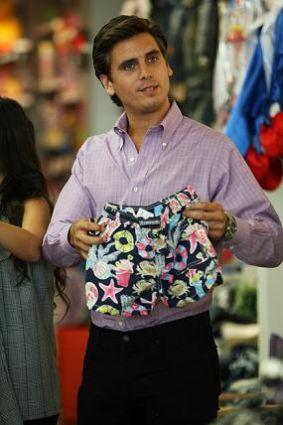 SCOTT DISICK: Words fail us.
Kim Kardashian, meanwhile, is working at the Dash, where the employees are talking about running into Scott out at night. Kim conveniently overhears and reports back.
A really bad actress, Kim wants Kourtney to open her eyes and realize she's living the life of a single mother. LOL, right. As if Kourtney has no hired help whatsoever.
Oh, Kim is also missing some expensive wine and assumes it's Scott.
The Disick says he didn't take it but Kourtney later finds the empty bottles on the roof. Amazing that he would leave it there, she would find it and E! would catch it.
After an adorable Kardashian-Jenner montage of family members lining up to bash Scott, Kourt realizes that perhaps this loser in her life is just a tad out of control.
Everytime Scott's friends come in from NYC this happens. He goes out, gets wasted, Kourtney gets mad, they fight, they make up. How long can the pattern last?
Oh, we will find out, it looks like. Things will be "taken too far" next week with violence, tears and a hospital stay involved. OMG, can you even handle the suspense?
To borrow one of our favorite How I Met Your Mother quotes, stay tuned for the douche-pocalyse. It's bound to be a heavily-scripted, predictable Disick doozy.
Steve Marsi is the Managing Editor of TV Fanatic. Follow him on Google+ or email him here.