The tension and the cliches were flowing this week on Rookie Blue.
The one thing missing? The suspense.
On "Mercury Retrograde," the show did its best to establish McNally and Swarek as its Meredith and McDreamy, but the relationship felt rushed. We started the hour with the latter peeved at the former for ruining his undercover sting - and concluded it with the former turning away from a kiss with the latter.
That was a pretty drastic 180, simply because Andy proved she could be a decent cop.
The episode was also filled with every cliche in the book: Andy tries to bust open a door and it doesn't budge; a warrant is actually a Chinese food menu; heck, even the criminals use unoriginal taunts, asking each other if they "smell anything" when the police walk in.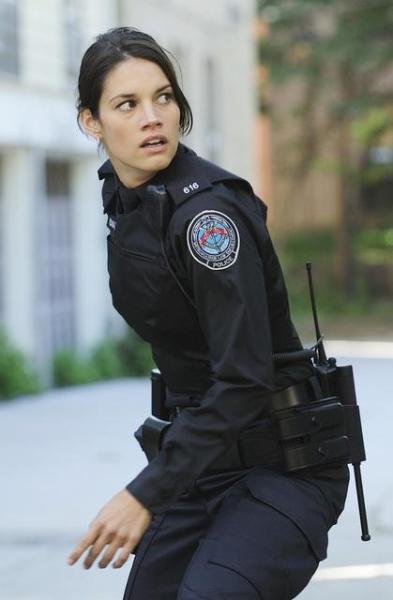 These tired actions and phrases could be forgiven if the action was ratcheted up a few notches. But did you ever feel like anything really dramatic was at stake?
Yes, the series must establish its characters. Still, it's a show about police officers on the street. It would help us feel more attached to these individuals if we worried about their lives from time to time. When Andy told Swarek near the end that she wasn't scared during the episode's climactic scene, she spoke for me, as well.
All this said, Rookie Blue has Missy Peregrym and Gregory Smith going for  it.
Peregrym plays Andy well, often nervous, yet confident when she has to be. Also, very pretty.
My favorite part of the episode, meanwhile, was when Peck's Epstein shows off his fighting moves proves to prove how tough he is. Still, as a Grey's Anatomy viewer, it's impossible not to compare him with George O'Malley (RIP).
Even the Jerry/Traci relationship could be seen as Burke and Cristina-like, as it seems a bit more mature and in the open. I apologize for these comparisons if you don't tune in each week for the action at Seattle Grace, but the show is on 9 p.m. on Thursday nights on ABC and even has a color in the title. Come on. I can't help it.
Overall, Rookie Blue is well-produced and perfectly acceptable summer fare. It doesn't seem to excel in any one area (acting, humor, drama), but it's not terrible, either. I'll tune in again.
Will you?
Matt Richenthal is the Editor in Chief of TV Fanatic. Follow him on Twitter and on Google+.