The Bachelorette Finale Review: It's Roberto!
Steve Marsi at .
Ali Fedotowsky made her choice early last night on The Bachelorette.
In a surprise twist, she sent Chris Lambton packing even before the final rose ceremony, letting him go without any of the pomp, circumstance and proposal-rejecting heartbreak.
This was a bit too hyped, but it was still a nice move by the star.
With only one man attending, the final rose presentation was a formality, and it ended with a marriage proposal by Roberto Martinez and warm acceptance by Ali Fedotowsky.
Congratulations to the happy couple ... we think!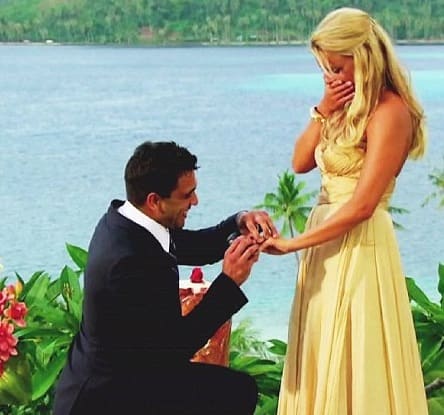 ON ONE KNEE: Roberto pops the question to Ali on The Bachelorette season finale.
There's nothing really wrong with Roberto or Ali's decision, although we can't help but think Chris L. was a better choice, and point out the sheer filler of the episode.
If Chris had his "last chance" date first, would she still have rejected him beforehand? Did she pull a LeBron James and drag this on for weeks, just for the ratings?
As a member of Team Chris pointed out via Facebook in the aftermath:
"The way she is talking to him is kind of condescending. Makes me dislike her even more. OMG, I was grossed out and was wiping my upper lip for her... so nasty. Parts of me want to set up my favorite single friends with Chris. He is too good to be true. But the worst is that he is so nice that she got off the hook so easily for being such a brat. Oooo, I just don't like her anymore. Do you think Chris will be the next bachelor? I can't see it happening."
"It just makes me sick that they got to go to Tahiti and then have this exciting secret romance, and now get a free vacation to Catalina Island. Will they ever live outside the bubble of the show?? How are they ever going to get into the reality of a relationship? That is when things will get truly tested. OH, and what do you think about weenie Frank not even showing up to the aftershow?? What a wuss!"
Truer words have never been spoken.
All in all, it was a terrific season of the show, and while opinions will vary on whether Ali made the right call, we wish her nothing but the best with her future husband.
They are still together and planning a wedding together in Spring 2011. We hope they make it to the altar ... and we're here if they need any seat fillers. Just saying.
Steve Marsi is the Managing Editor of TV Fanatic. Follow him on Google+ or email him here.