Brace yourselves, TV Fanatic readers:
I actually didn't hate this week's episode of The Secret Life of the American Teenager.  In fact, I liked "My Girlfriend's Back." I really, really liked it.  A large part of that is probably due to the heavy Amy and Ricky scenes, so let's jump right into it.
In Amy's teen mother music program, the fathers or partners usually go to visit the moms at the end of the program.  Since obviously Ricky is not her partner, she wasn't planning on inviting him.  But when she tells him about it, something ignites in Ricky and he decides they finally need to talk things out. Yay for progress!
He flies to New York and things are slightly awkward with Amy at first; Probably because they've had little interaction and screentime.  If they do, it's been fighting, talking about John, or working out logistics.  In fact, this is probably the most time they've spent together since the one-two pump impregnation.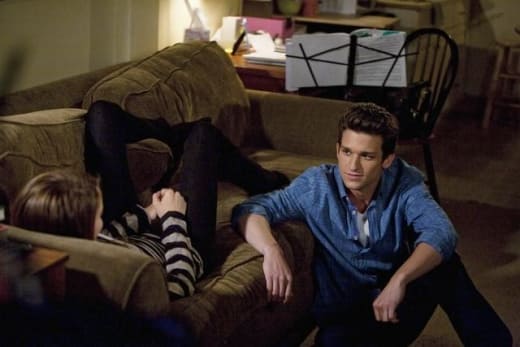 [Photo: ABC]
They finally kiss. I almost squealed, it's taken too long.  They sat, they talked, they got to know each other and most of all they have chemistry.  I don't think chemistry can be faked.  Especially in real life, but even on television and in movies, it's very obvious when two actors don't mesh well.  Fortunately, these do.
They talked about their future and are thinking about being together.  I really hope the writers will give this relationship a shot.  They are the anchor of the show and the only characters I never really want to scream at.
As for the characters who are on my nerves this week, Adrian can't say that if Ben hadn't knocked her up she'd still have a chance with Ricky.  She chose to keep the baby.  There is still no answer as to why she did this.
Ben is on the border of creepy stalker.  The amount of photos and his obsession with Amy is psychotic.  And it's not like "oh hey, he's so in love with her it's so cute," it's like: oh wow, kid needs some counseling.  He's about to have a restraining order placed on his ass and a mugshot posted on the 11 o'clock news.
And, WHOA!, points to Ricky for saying that Ben is annoying and that he and Amy never had a shot because Ben swooped right in.  It's about time somebody recognized that.  It seems these kids are growing up, perhaps it's because half of them are teenage parents.
The other half remains completely immature.  one of my favorite quotes goes to Madison, regarding Jack and Grace: "Maybe if I sleep with him, he'll feel closer to me than he does to her."
Ladies and Gentlemen, a sad statement made by dumb b*tches everyone.  She and Lauren are whining about their boyfriends being away for the summer.  If this show wants to be educational then it needs to educate girls about being more independent and having a life outside of getting attention from boys.
For instance, Grace who is normally annoying, is planning on going to med camp for the summer.  And while new beau Grant will be there also, Grace realizes that life is about balance.  Yes, she wants to be a teenager and stay up all night kissing and having fun, but she also has goals.
Ashley's goal is to take the term "sullen teenager" to a new level.  She's certainly on her way to completing that.  Is there anything she likes?  Then again, Ben's party was pretty lame.  Don't they know anyone else at their high school?  It can't be that hard to hire extras to fill the spaces in the crowd.
Overall, a pretty good episode for Secret Life.  Next week's previews look intriguing.  Perhaps this show can have a turnaround after all?