Ben Mercer showed back up in Annie's life on Covert Affairs this week...
... within minutes of the episode "What Is and What Should Never Be" airing. This took me by surprise. When the show first set up this over-arching arc, I would have guessed that the final scene of the season would have been this reunion.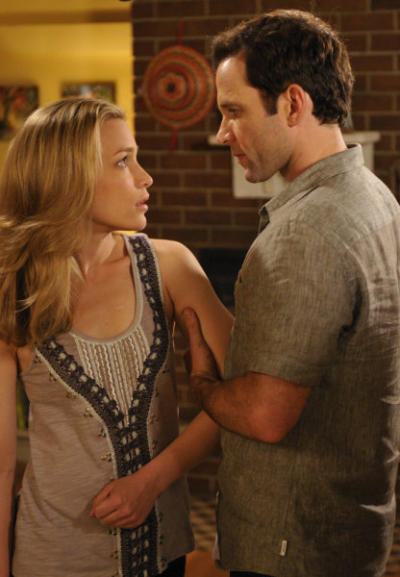 Instead, the series appears to be using Ben less as a player in Annie's personal life than as a cause for her to distrust the CIA and question those around her at work. That was the focus of this episode, far more than Annie's actual feelings for Ben.
It's a welcome change. Covert Affairs loses momentum any time Annie and Jai do more than flirt at work - was anyone really hoping they'd go home together after the barbecue? - as I prefer it as an action-based, light-hearted spy drama. Here's to hoping it steers away from any real romance.
After all, if viewers are to believe Annie as a legitimate operative, she can't be all doe-eyed over a man she's known for three weeks. I'm all for sweet love stories, but come on: faced with whether you trust a man who you've known for less than a month (and who mysteriously abandoned you) versus long-time, decorated bosses at the CIA, it shouldn't be a difficult decision.
But this episode did continue the theme that not every mission Annie is sent on results in black and white consequences. It would be a great twist if Ben truly is evil, but my assumption is that the answer is far more grey - and Annie may soon have to decide if she wants a job that requires such moral flexibility at times.
That's where Covert Affairs really shines: take a gorgeous, initially naive rookie agent; thrust her into the challenging real world; watch her accomplish what is asked of her; and then also watch her wrestle with the implications.
I applaud this installment for leaning in that direction. I don't know when we'll see Ben again, but I hope the result is more questions for Annie at work, not in her heart.
What did you think?
Matt Richenthal is the Editor in Chief of TV Fanatic. Follow him on Twitter and on Google+.