There's turmoil, jealousy and plenty of romantic entanglements to come on Hellcats.
So teased Sharon Leal (Vanessa) in an exclusive interview with TV Fanatic. Read excerpts from it below, and then check out our conversation with fellow star Aly Michalka...
Are we going to see an affair happening between Vanessa and Red?
I think that it gets complicated. Because Red, in the beginning, is presented as someone with not great intentions, and you kind of figure out that they do have this back story and it's complicated. It just gets more complicated, but whether or not they'll actually get together is a total question mark. We don't know yet. We haven't seen the last of their flirting.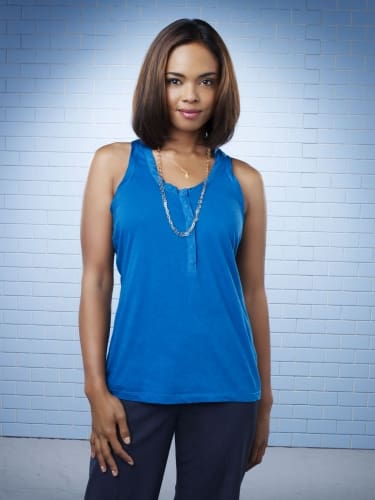 Any injuries in store for the girls?
Yeah. That's always going to be a challenge for them because people, inevitably, tumbling and flying around, are going to get hurt. So we have a couple episodes coming up where it's crunch time and they have to record a big skill set and somebody gets hurt. It's a big contact sport.
What challenges will your character face this season?
Vanessa is in constant angst because the university is threatening the funding. They don't take the Hellcats that seriously so she's constantly going into the office to explain why people's college education is riding on the scholarship they get from cheerleading. It's just one of those things where she and the team are constant underdogs and trying to prove themselves.
You have that aspect, and also her personal life. There's so much going on and she's constantly juggling while trying to stay positive. I don't think that ever lets up.
Any spoilers you can give us?
I'll say that Hellcats are very close knit family and you can see that in the first few episodes between Louis and Alice, and Marti and Savannah and Dan. People are hopping around, and vying, and competing for people's affections. They'll definitely be some jealousy and some things that just stir up because people want to be with certain people who want to be with other people.
It's a constant merry-go-round and it will be interesting to see who winds up with who. It definitely causes a lot of turmoil and jealousy. You'll get to see other sides of Alice, and find that these characters are seemingly pure evil, but there's always a reason for it. We'll find out why she's like that. There are moments, with all of the drama, they do all fall in line and come together as a team. That's a cool aspect of what happens. Everything has to be let go for the sake of getting to the same place or trying to achieve that common goal. It definitely takes a lot of drama to get there, but they do eventually get there.

I'm sure Vanessa will crack under the pressure at some point, she's only human. In episode five, everything is coming down on her at once, stuff with Red and Derek and everything all at once. She's close to her brink. Whenever you're in a high pressure situation, there are bound to be some tears. I think she gets to these places of "what am I fighting for?" and "am I doing this in vain?" or "should I just give up and leave Memphis and the university?" I don't know how far into a breakdown she goes, but it'll be interesting to see.