Sarunas Jackson on Good Trouble, Games People Play, & Finding His Swagger!

Jasmine Blu at .
The first half of the Good Trouble Season 2 came to an end with a few shocking cliffhangers that will have fans eagerly awaiting its return.
Fortunately, it was announced that Good Trouble will have a special 2-hour Christmas special. We can only imagine the kind of drama and excitement that will happen with the Coterie gang and their close ones during the holiday season.
Related: Good Trouble Season 2 Episode 8 Review: Disruptions
One of those Coterie loved ones is Malika's boyfriend, Isaac Hall played by Sarunas Jackson. 
TV Fanatic had the good fortune of speaking with Sarunas about Good Trouble, finally playing a nice guy, Games People Play, and the important message behind his new role as the Old Spice Guy in Old Spice's "Never Let A Friend Lose HIs Swagger" Campaign.
Check out our chat below!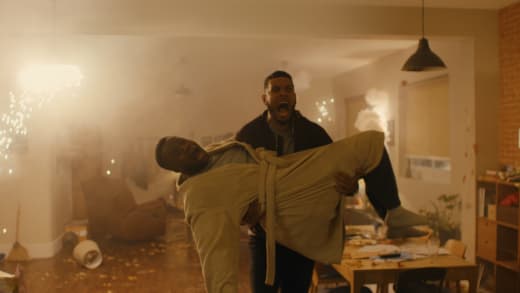 TV Fanatic: So, I'll just jump right into it. There's supposed to be a Christmas Special for Good Trouble coming.
Sarunas:  Yes, indeed.
Are you going to be in it? Are you going to be bailing Malika out again or what?
Sarunas: [Laughs]
Will she finally get to meet your family or you know? What can we expect?
You know Supportive Bae will be back in there! You know I mean?
[Laughs]
Yeah, yeah, yeah. Well we start that up on [August 26], so yeah, I'm really excited to do that, but you know, you'll see what all the characters are doing, and the mix they're getting into.
So how refreshing is it, you said "supportive bae," to play a nice guy, for a change?
Sarunas: [Laughs]
I know some of your other roles are usually a little questionable.
Yeah, you know, it's funny. First of all, I do love playing a character who is, like, strictly monogamous and very supportive and all of that, but I don't get the same attention I get for playing Marques King and Dro, you know?
That gets a lot of attention, but then when you play the nice guy, you get no attention. Nobody wants to talk about this character. Nobody wants to scream at me for portraying the other roles.
Related: Emergence: ABC Shares First Nine Minutes of Allison Tolman Drama
Well, it's funny you say that though because I think, I noticed the general sentiment in the fandom is that, like, Malika and Isaac are the most stable couple on the show.
Yeah, and yeah, well, yeah. We are.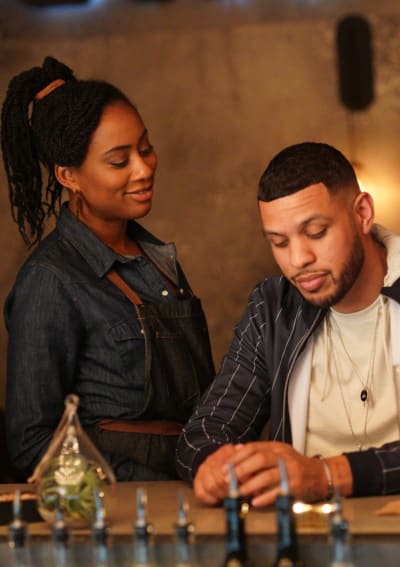 You guys are the "Couple Goals." How important do you think it is that there's this beautiful display of black love that's considered couple goals on the show?
Yeah, that's been a huge thing for us because if anybody was going to be the stable ones on the show, we wanted to be the stables ones. Especially with the background that Zuri's character Malika has, and we also just wanted a great example because there aren't too many great examples, you know?
You might get a couple -- some here and there, but it's not too many great examples for black love like that, and this is something that we want to promote and put out there, and to make it, yeah, like you said, like a goal to make goals for that, and that's something that we kind of stressed to the writers.
Related: How Good Trouble Mastered the Slow-Burn 'Ship
Honestly, the writing team themselves -- they can have fun with everybody else and put their relations through turmoil, and trials and tribulations, but for us, obviously, we're going to have our tests, but they definitely want us to be the stable ones. That's been their thing that they love that we're the example of.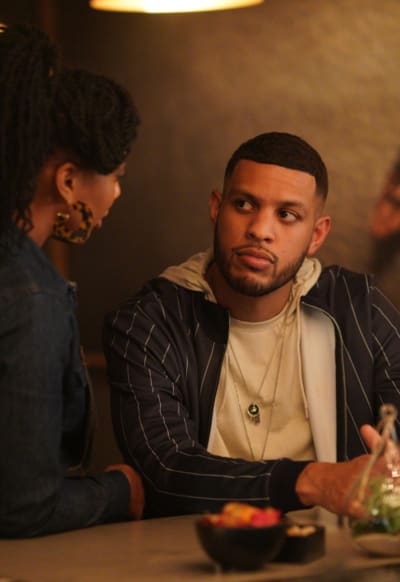 Yeah, and you guys had the initial obstacle, in one of my favorite episodes (Good Trouble Season 1 Episode 7) on implicit bias. You guys got over the colorism issue, and I think you guys have been pretty solid ever since. Although it seems like her activism might get in the way a bit? You guys have different perspectives on it.
I think it is more so, Isaac's perspective is that it's not about the activism; it's about her safety.
She gets to of course be a voice for the culture and be pro-black, and of course he's about that as well, but it's all about doing it in a smart way and not necessarily putting yourself in harm's way or give the opportunity to the opposition to do that to you, to harm you.
Related: Good Trouble Season 2 Episode 6 Review: Twenty-Fine
I think that's what he's mainly -- he's just being that protective boyfriend. As they got serious, he doesn't want to see his girl getting tear-gassed or having to bail her out of jail. He doesn't want her in pain. The life of activism -- it's a rough life.
It's a double-edged- sword because you definitely don't want it to dictate how active you are, but at the same time, you also wanna keep safe.
Right, and I think that that was another perspective I thought was really important -- I think he had said once that succeeding is a form of protest too. It's another avenue.
Yeah.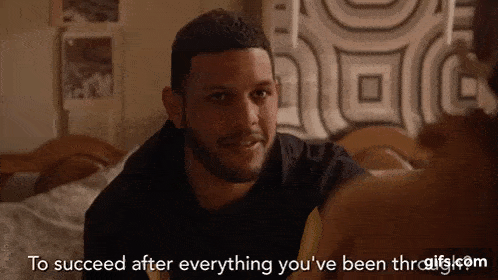 And it's nice to see Malika have that support, someone who can tell her to take a break and not have the weight of the world on her shoulders, and having this man take care of her.
Yeah, I think when you're just so used to having your back against the wall fighting, that's just the type of energy that you're used to, so you stay in that. You live in that. It's a habit.
It takes a long time to break habits and what's in your nature. Until you're consciously aware of it and can talk things out loud and heal. Isaac has to navigate how to be with someone who has a lot of trauma and things that he didn't actually experience.
Related: 2019 MTV Video Music Awards: Best and Worst Moments From the Show!
Well I see of course he's been kind of immersing himself into The Coterie world with Malika, but it has been ages since we've seen him kick it with his own crew. Does he need to find his swagger again?
Right! [Laughs] yes! Definitely. He's fallen a victim of that. He's in the Coterie world. He's always in Malika's room.
Finding yourself in a new relationship or whatever it is or in the digital era, it's easy to stay inside, or if you're a new father such as myself. You could find yourself a little lost, losing a little bit of swagger, not hanging out with the fellas. It happens all too often.
Is that what drew you to this Old Spice campaign and made you want to be a part of it?
Yeah, I mean, first of all, Old Spice itself, all you had to say was Old Spice, and I was like, yes, absolutely.
I've always loved their commercials and wanted a spot in the campaign for like forever. But also whether it's a campaign or a TV show when you can connect or relate to the message, then it makes it that much more fun to dive into. It's something that you can relate to.
So just the whole concept, just the heightened world-- the heightened reality that they're living in. It's just funny, that kind of dramatized version of something that we have where we don't kick it anymore. It's nice to think that you can be someone that saves -- to be the hero.
Yeah, now you've gone from the nice guy to the action hero, so you're diversifying there, so that's good.
[Laughs]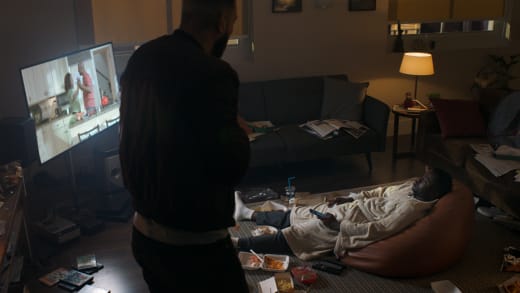 So you're getting a little bit of everything in there. I never consciously thought about that [socialization issue], but looking at the statistics was interesting, and I love the comical spin on everything, but it is an important message about socializing and checking in with each other more.
Yeah, yeah, right. Even recently, I reached out, you know having friends in the business, you're an actor, then obviously it gets smaller when you're a black actor, you check in with some of each other, you know? Like Winston Duke just texted me the other day to check-in. "Just checking in. We haven't checked in in a while."
And you get a text back, saying, "Man, I appreciate it. You checking in, and I'm doing fine you know, just busy up here now doing this, how are you and the baby" and stuff like that.
Just a simple check-in is appreciated. I'm sure you can relate. It's easy really to lose contact for a little bit, but if the friendship is true no matter how long you kind of pick up where you left off.
Related: Grand Hotel Season 1 Episode 11 Review: Art of Darkness
Are you guilty of letting life get in the way, or are you like your Old Spice character physically dragging someone away from the couch?
[Laughs] I've been both, to be honest. If we're going to use the two characters, I've been the hero I'm portraying, but I've also been my co-star-- I've been his character where you get invited, and you do that "oh, okay, send me the details, we'll see."
When I say "we'll see" I know my answer in my heart, by the time I'm like "Oh yeah, let me know," I'm probably not going to show up. [Laughs] But I've also been the person like calling saying" Look, man, such and such is going to be there" coming in to save the day and save ourselves from our own washed versions.
That was a funny commercial. Did you have fun making it?
That was some of the most fun I had on set just because I never had done anything like that. When you can mix comedy and action, which are two of my favorite genres, that's a no brainer.
That just beats everything. It was fun to get physical and involved but also play these lines to a ridiculous and dramatic level. I always wanted to be part of an old spice campaign. I use the product myself, it's amazing especially the Swagger scent.
Related: Briarpatch: Rosario Dawson Solves Murders in First Trailer!
So is Games People Play coming back?
We're going to find out soon. We're going to find out soon. I know that we have the highest ratings on the network, so we should, but we'll see. Nothing is promised, but once we know, y'all will know.
Sweet. That was a double dose of you on Tuesdays with Good Trouble and Games People Play.
Yeah, it was. My dad wasn't working on Tuesdays to catch both of my shows, but see, now I'm the reason he was losing his Swagger on Tuesday nights, staying in. I have to come to save him from watching me.
Related: Breaking Bad Movie Gets Premiere Date at Netflix!
Well, he had to make an exception for you, but you can probably give him a can of Swagger or something to make up for it.
[Laughs] Oh yeah, Old Spice gifted me with some stuff, so I definitely hooked him up with body wash and shampoo!
And they're keeping it in the network family, I see Alberto Rosende from Shadowhunters is part of the Old Spice Campaign too.
Yeah, they know what they're doing!
Anything else you can tease about Good Trouble?
It was just the midseason finale, so we'll be back. The back half of the season will be back soon. I'm really excited. I really love to be part of Good trouble. The people who created it and the cast, they're all really nice, talented people.
It's really a great show and captures a lot of diverse experiences and resonates with people.
Exactly. That's why I love to be part of it.
Just the type of person that I am, I like being part of a show where I can mention this project to anybody, and they can have something in there that speaks to them. It's always an honor to do something like that. As an artist, you want your work to resonate with people. It's one of my favorite projects I've worked on.
 Related: Get Walter Presents via Prime Video Channels for Original, Exclusive, Hit Series from Around the World!
Good Trouble airs Tuesdays at 8/7c on Freeform.
You can watch Good Trouble online here via TV Fanatic, and don't forget to check out our reviews!
To see Sarunas starring as the Old  Spice action hero, check out the hilarious video below. Remember, never let a friend lose his swagger!