What happens when you make a different choice?
With the third season of Fringe premiering tonight on Fox, producers J.H. Wyman and Jeff Pinker are giving fans an in-depth look at what's ahead on this mysterious Fox drama.
It's already been confirmed that each episode will actually rotate universes, but the men in charge explained to TV Guide just how distinct each installment will be. To wit: there will be separate credit sequences, one with a red background and one in blue, depending on whether the focus is on Over Here or Over There.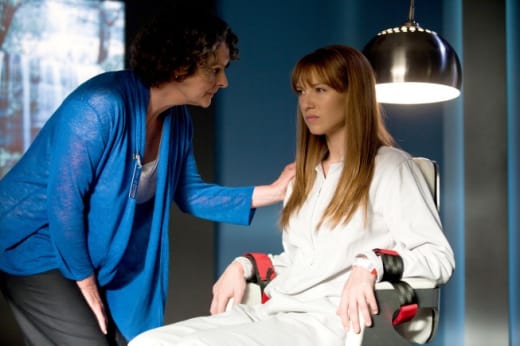 "Last season was about secrets," Pinkner said. "This season we're really [addressing] the concepts of duality, the concepts of choice, the concepts of who are we as people.  What happens when you make a different choice, those consequences?"
What other spoilers/teases did the producers offer? Let's take a look...
Viewers will see a lot of Bolivia in this world, with a focus on the differences between her and the real thing. Says Wyman: "We get to really experience what Bolivia's life is like. Our Olivia was essentially abused as a child.  She was given these experiments that changed her worldview.  Bolivia, that never happened to."
Forces Over There will be trying to convince Olivia that she is actually her doppelganger, as previewed in THIS CLIP.
Walter and Peter will grow apart, partially due to the discovery of a doomsday machine.
With more access than ever before to Massive Dynamic, Walter will turn to science to cure his psychosis.
TV Fanatic will cover Fringe every week, posting the latest quotes, photos, reviews and more. We hope you join us on Friday mornings for a complete rundown of the latest episode!
Matt Richenthal is the Editor in Chief of TV Fanatic. Follow him on Twitter and on Google+.