NCIS returns for its eighth season tonight, with skeletons from Leroy Jethro Gibbs' past leaving his father - and potentially the rest of the team - with huge targets on their backs.
How will he get out of this one?
Executive producer Shane Brennan says Jackson Gibbs (Ralph Waite) will be front and center, and it will be clear where our man gets his fighting spirit and independent streak.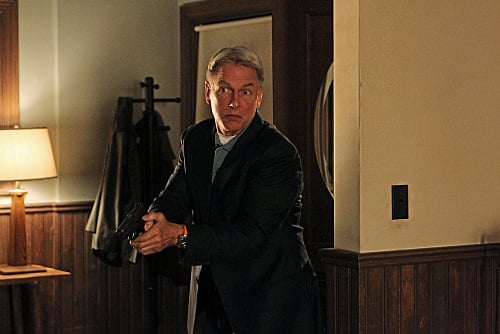 "It's a big opening," Brennan tells TV Guide of the season premiere. "I advise every fan of the show to sit down and watch that first minute. It's explosive. We finish up that story, and we'll quickly get back into showing NCIS as the team it's always been."
The first minute? As if we weren't intrigued enough!
The bad news, however, is that Gibbs' team members feel threatened when their investigation of a helicopter pilot's murder leads Gibbs & Co. back to the vengeful Paloma Reynosa (Jacqueline Obradors), whose father, Pedro Hernandez, was killed Gibbs decades ago.
Moreover, not every team member takes the news of Gibbs' murderous past with a wink and a nod, or a smile. We saw Abby's reaction last season. Tonight could be worse.
"I think that DiNozzo is squarely confronting personal demons this year," Michael Weatherly says of his character, who has worshipped his boss despite his prankster ways.
"You see a man who is a maybe a little less silly," the actor continues. "This is not to say he's totally lost his sense of humor, but I think there are some changes going on with that character that are kind of a subsequent result of seeing Gibbs in a new light."
Expect deeper insights into several characters this season, as Brennan promises origin episodes for at least a couple characters. Plus, look for the return of Ziva's father (Michael Nouri) to lead to what Brennan calls this season's first big Tony-Ziva (Cote de Pablo) moment.
"For Tiva fans, there is a moment in the first half of the season," Brennan says. "There will be some ghosts from the past, though maybe some of them are not ghosts. It probably won't go as far as [the fans] want it to, but have we ever gone far enough for them?"
Gibbs' relationship with Abby (Pauley Perrette), meanwhile, should settle down, even though she was the first to uncover Gibbs dark secret in last May's "Borderland."
"It's a complex relationship and we've just added another layer of complexity," Brennan says. "But we would not jeopardize the relationship that the audience has come to love. It does bring a different perspective to it, but it's not like they're going to be busted up."
"Gibbs and Abby are going back to being Gibbs and Abby."
But Brennan, who's known for meticulously plotting out his seasons far in advance, is already thinking about the season's end, and it looks like he has a big one in store.
"Toward the end of the season, there will be a big, big, enormous question mark over one of the characters," Brennan teases. Any thoughts on what that might be?
Steve Marsi is the Managing Editor of TV Fanatic. Follow him on Google+ or email him here.