Having already been lucky enough to see the first four episodes of season six (thank you FX!), we can tell you not to worry, "Dennis Gets Divorced" was easily the weakest of the four entries. 
The episode served as a follow-up to the premiere, aptly following an episode about with marriage with divorce.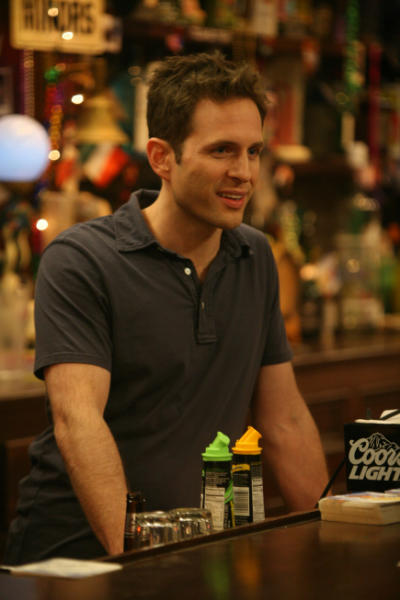 The entire premise of the second episode was to roughly undo the events of the premiere and make some good jokes at the expense of divorce.  Unfortunately, the episode definitely did not have the satire nor complete ridiculousness of the first installment.
Some of the jokes that worked for us?
The entire divorce mediation between Charlie and Frank.  Trust us, Uncle Jack, we felt the love too.
Any way we can see those elephant drawings?
Mac's off-screen drunken phone call to their old lawyer and his consequently representing Maureen.
The "bachelor party" and Charlie and Frank's attempt to get a couple dance and cash in on the few benefits of their marriage.
The entire scene of Dennis and his boy toy after the bachelor party.
What didn't work for us?
Uncle Jack.  The notion of the incompetent family lawyer has been done way too many times before and the small hand thing was just creepy.
Sweet Dee's story.  Although the other mistress was funny, it just felt weak.
Don't worry, next's week's episode, "The Gang Buys a Boat" is amazing.  Now, on to our favorite It's Always Sunny in Philadelphia quotes:=
Charlie: You told me it was a phone bill. Of course, I signed it. | permalink
Frank: Being married to Charlie has me all confused, I gotta get my hetero on. | permalink
Mac: Maybe I should go to my room.
Maureen: That is not your room anymore. It's my craft studio, so kindly stay out of there.
Mac: What!?
Dennis: Don't freak out, dude. She turned it it into a terrible craft studio where she makes terrible sweatshirts out of cats. Or puts cats in sweatshirts. | permalink
Charlie: Who washes the dishes?
Frank: Nobody washes the dishes! We eat the food directly off the coffee table and you know it! | permalink
Eric Hochberger is the programmer of TV Fanatic, so please forgive his mediocre writing. His programming is far better. Follow him on Twitter and/or email him. Just don't request threaded comments. They're coming.