"They say as soon you have to cut down on your drinking, you have a drinking problem."
Don Draper is not in AA, but after his realization at the end of "The Suitcase," he certainly is making some changes in his life.  Throughout "A Summer Man," Don is making strides to be different in many facets of his life.  Both the fact that Don is finally making an attempt to change for the better, and the fact that Mad Men would create such a different episode in terms of style, made the episode extremely interesting.
The voice-over worked for me.  Not only because I currently enjoy it as a technique in Dexter, and loved the Daniel Stern voice-over in The Wonder Years back in the day, but because it was different for this show.  It's was a change for Mad Men, and that fit with the changes we saw in Don this June of 1965.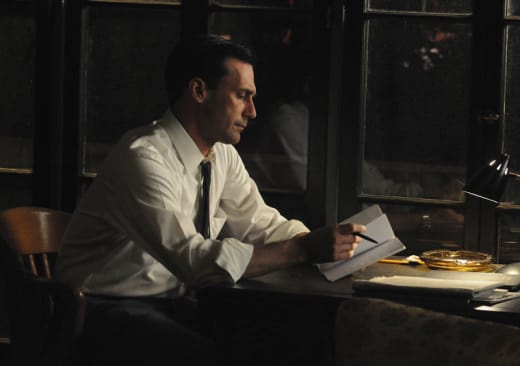 Just in the first few minutes we got a side of Don that we don't normally see: swimming, shades... and Stones.  Sure, the last one was simply the background music, but the "Satisfaction" tune also added to the stark contrast in the Don Draper all around in this week's episode.
So, between Don's decreased alcohol consumption, his diary writing and his ability to go on normal dates with normal women, we were shown that this is a different man.  Again, he's not in a program, but this self-starter is trying his best to cut down on his drinking.  Yes, he's still imbibing during the hour, but it's a drink here and a beer there.  He also turned down alcohol and was in a haze watching others drink at times, so he's definitely putting in the effort.  How this will affect his life is the question worth asking.
Either this, or his work with Peggy last week, or a combination of both, has allowed him to have greater ability to both write and talk about his feelings.  Don feels like a little girl writing about his day in a diary, but he could be a much healthier man for doing so.  Don giving anyone his thoughts, even if it is just in a notebook, is rare.
Then there was his luck with women.  First, Don goes out on a date with Bethany, who lets it be known that she thinks about him a lot.  Not only by telling him at dinner, but also in the cab on the way home... if you know what I'm saying.  When they run into Henry and Betty at dinner, Bethany finds out that Betty is Don's ex-wife and she smiles.  Why this smile?  Does the similarity between the women give her more confidence?
And then there is Don's success with Faye.  The woman among women.  She is now all of a sudden a sucker for the Draper charm and accepts his invitation for dinner.  But after wanting to go to his place so that she can have her way with Don, the changed man simply declines because smooching in the cab is as far as he can go right now.
I'd like to quickly touch on our man Joey before moving on.  I thought this was a nice showcase for the kid on his way out the door.  Will we see him again as a Mad Men cast member?  Maybe, but maybe not.  He sure was extremely different than anyone we saw in season one or two.  He was a creature of the younger generation and he wasn't afraid to show that off.  I always enjoyed watching him cause a raucous, even if it was at the expense of Joan most of the time.
Other Thoughts:
Are you a Felix or an Oscar?  Because I'm such a young kid I only knew of The Odd Couple as a TV show form the 70s.  I had no idea it was originally a Simon play from '65.  The things you learn from TV.
The difference between the two car rides was fantastic: In one you had Betty and Henry fighting beyond anything we've seen them do before.  In the other we had Don getting an interesting gift from an eager Bethany.
It took some persuading by Don, but it was nice to see Peggy show off her power at SCDP by firing Joey.
Not only is Joan crabby to everyone at the office, but she's mean to Peggy?  We get it. Your man is going off to war, but don't make me dislike you for being such a jerk to everyone.
As Betty stares at Don with baby Gene at the end of the ep, what is she thinking about?  That she still has romantic feelings for him, as Henry suggested?  Or is it just a blank stare, as so many viewers might expect from my Betty.
There was no music playing during the credits.  I'm no details expert by any means, but I don't remember that happening much.  That can't be a first though, can it?
Dan Forcella is a TV Fanatic Staff Writer. Follow him on Twitter.