Private Practice Season Premiere Review: "Take Two"
Steve Marsi at .
"Take Two." The title of last night's fourth season premiere of Private Practice says it all. We all want a do-over, a chance to make things right the second time around.
From the patients to the doctors themselves, everyone got it. The road won't be any easier this time, but perhaps with a fresh start, the end result will be more rewarding.
The opening of "Take Two" found the team mourning Dell's death. Pete and Violet are taking a HUGE step when it comes to second chances - they're getting married!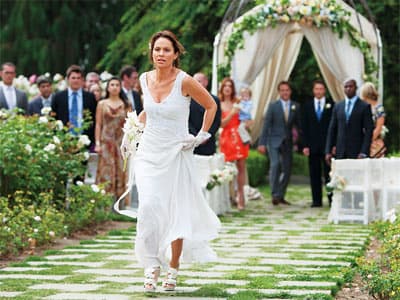 VIOLET BOLTS: Fortunately, she and Pete did tie the knot after she came back.
Like on Grey's Anatomy, we pick up in the aftermath of a shocking season finale last May and things are out of sorts. Sam and Addison don't look very together, for one.
Naomi isn't with Fife either, and Dink isn't with his kid. Which is, in part, Naomi's fault. She keeps pushing him away. Sam decided to teach him a lesson through sports.
Playing one-on-one basketball, Sam starts hacking the crap out of his sort-of son-in-law, and when Dink pushes back, Sam says to take that mentality with Naomi too.
Basketball. A metaphor for life.
The night's patients also reflected the blatantly obvious, vintage Shonda Rhimes symbolism of redemption. A kidney transplant patient, Ryan, begs his brother, whom he has wronged, for an organ - and a chance to make things right. Emotional stuff.
Ryan's body rejects the kidney, but his brother, Kevin, did not reject his pleas for forgiveness. He says he'll tell their parents what Kevin did in heaven. Is it dusty in here? Meanwhile, Naomi and Sheldon help a couple who want to have a child via surrogate.
The problem? Addison recognizes the prospective dad, who unintentionally left his first child in the car on a hot day, killing him. He wants to try again, and after much hesitation, Addison believes in second chances enough to help the couple give it a try.
On Pete and Violet's wedding day, emotions are running high.
Then Violet is running, literally, in the other direction. Despite her fears, and Pete's own major insecurities about being a failure at marriage, he does what no words can - looks at her with reassurance and all the love and tenderness in the world. What a moment.
Cooper and Charlotte, whose ongoing drama took a back seat this week, decide to have both a pastor and a rabbi at their own wedding. Sheldon drinks his single woes away, while Addison wonders, aloud, if people do things better the second time around. Deep.
Sam says he hopes so. While in a bubble bath with her, BTW.
This premiere, while overly sappy at times, was definitely solid and set the stage for what could be a great fourth season. We look forward to seeing these stories fleshed out.
What did you think of the Private Practice season premiere? Do Addy and Sam have a shot? Will Pete and Violet last? What was your favorite scene? Discuss!
Steve Marsi is the Managing Editor of TV Fanatic. Follow him on Google+ or email him here.