The 21st season of Survivor started last night with the premiere, "Young At Heart" which had a new twist and a surprise celebrity castaway.  We reviewed the episode last night and now our Round Table writers are eager to break down the ramifications in the opening edition of TV Fanatic's Survivor Round Table?
What did you make of former Dallas Cowboy's coach Jimmy Johnson being included in this season?  How will the Medallion of Power impact the game?  Who's your early favorite?
As always, we want to hear our reader's take on the weekly questions as well.
Medallion of Power - Love it or Loathe it?
Kakdaddy: The jury is still out for me, but I see huge potential.  It could turn out to be a forgettable gimmick, but I think this will be a cool new twist.  I say good job by the producers to mix it up a little.  I'm especially excited to see how each challenge is affected by the use of the medallion.  It won't always be an extra bucket of water.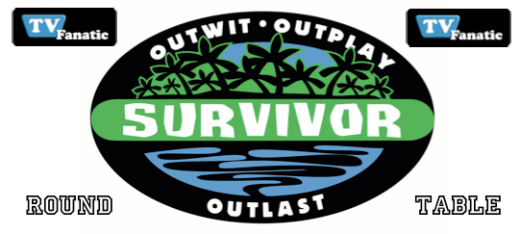 Mr. Probst: I'm only against things that mess with the social strategy of the game, but the Medallion of Power does the opposite, it enhances it.  Forget the impact to challenges, it'll be fun to watch teams bicker over the proper (or improper) use of the medallion.
Lady Gaga: Not feeling it at first, but now I think that it is actually a very interesting twist and forces teams to be strategic about challenges. I agree that in theory Espada didn't need to use the medallion for the challenge but I would be interested to see how much of an advantage it provided. Unless La Flor goes on a winning streak, Espada should hold onto the medallion for the next big physical challenge.

Which tribe would you rather be on, old (Espada) or young (La Flor)?
Kakdday: Sadly the old tribe.  The seem much nicer and I think it would easier and more enjoyable to be around them.  Some of the people on the younger tribe just don't seem like very nice people.  It's like they traveled back to high school and is a sad reflection of my generation.  I know that Jud seems like a complete moron, but are we really coming up with nicknames to make fun of someone on national television?  Grow up.
Mr. Probst
: Espada 4 Life, baby!  It'd be so awesome to be around Jimmy Johnson as he gives pep talks before each challenge.  I'd run through a brick wall for that man!
Lady Gaga: La Flor, they seem to have a good group, with the exception of Jud. I think they will work very well as a team and will be good at both physical and mental challenges.

Bigger impact - Jimmy Johnson or the Medallion of Power?
Kakdaddy: Jimmy Johnson (I really hope he sticks around because he could be very amusing).  He's clearly intelligent and I certainly want him to stick around.  Smarts is more than half of this game, but the man looks half dead already and the show is only 3 days in...could be a risky wager on my part.  Guess I'm more voting for what I want to be the bigger impact.

Mr. Probst: I love me some JJ, but I believe a tribe messing up the use of the Medallion of Power is going to get at least one person voted out who otherwise would not have been.  I'm predicting La Flor to screw that one up. 
Lady Gaga: Jimmy was a little beat up on the first episode but I'm hoping he sticks around and makes a big impact on the game.

Predict when and how Jud will be removed from the game by "medical".
Kakdaddy: If anything happens to him I think it will be an animal injury.  Nobody's been poisoned by a snake yet (to my utter amazement - they seem to be EVERYWHERE) so I think Jud gets poisoned.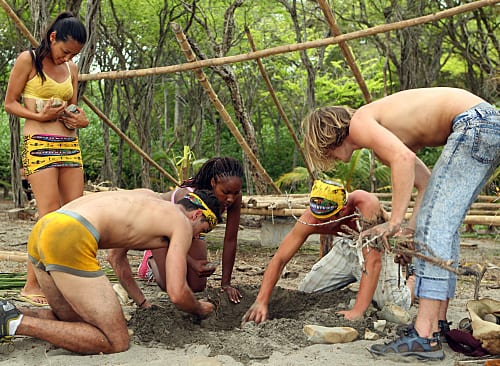 Mr. Probst: In the first episode alone, Jud ran in to/stepped on two different things resulting in injury, however minor.  There's no chance this guys survives (nice pun!) the first jungle gym-type challenge the producers throw at him.  That, or, he's bitten by a monkey.
Lady Gaga: On the third episode Jud will be using the machete and miss whatever he is cutting only to have the machete slice his leg.

Who's your early favorite to win it all?
Kakdaddy: I'm going with Holly the swim coach.  No idea why, I just get a good vibe from her that she'll go deep.  I also get the same feeling about Yve.
Mr. Probst: My man Tyrone.  He was fired up by Coach Johnson's pre-challenge speech and will be the only one smart enough to take Jimmy J. up on his offer to get someone the $1M prize.  I'll tell you who is not going to win - Jimmy T.  The inevitable Jimmy T. v. Jimmy J. showdown will not go well for Jimmy T. 
Lady Gaga: Shannon, he seems to understand how to play the game and organize his alliance. He was absolutley correct when he stated that Boston Rob and Russel could have dominated the game if they worked together. However both BR and Russel are extremely good players, we'll see what Shannon can do.
Which will have a bigger impact, Jimmy Johnson or the Medallion of Power?