Bristol Palin found herself in a hairy situation Monday on Dancing with the Stars, literally and otherwise. Her gorilla suit performance landed her at the bottom of the pack.
Palin and Mark Ballas earned just 18 points, putting them in last place, behind Kyle Massey, who scored a mediocre 20, and Florence Henderson, who ended up with 21.
As expected, one of those three was eliminated last night? But which one ...
Bristol is safe! So is Kyle! Instead, Florence Henderson, who outscored both (albeit narrowly) was told she earned the lowest number of votes and is henceforth out.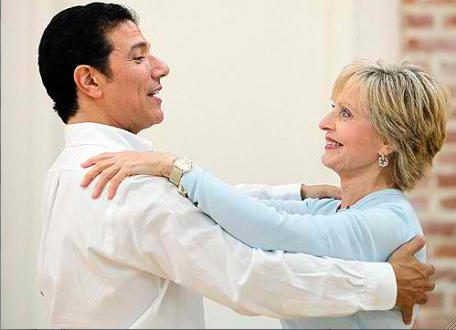 Florence Henderson and Corky Ballas gave it a good run.
"I've been in TV for 50 years and I have to say honestly this has been one of the best produced shows I've ever been on," the Brady Bunch star said after she heard the news. "I've loved the show since it began. It's just a tremendous show."
Ever the class act, the 76-year-old (!) didn't take the news hard, instead leaving with this parting shot: "I hope that I've inspired people to get off their behinds and move and dance and live and enjoy life." Hard to argue with that, Florence.
Her ouster, however, can definitely be argued. Should Bristol have gone instead? Did Dancing With the Stars voters make the right call? Who are you rooting for now? Discuss.
Steve Marsi is the Managing Editor of TV Fanatic. Follow him on Google+ or email him here.