Jersey Shore cast members warned us that Mike could not dance, and we believed them. After this week, there may not be a less popular, equally bad performer to mask it, either.
With a clunker of a tango, The Situation is in a pretty bad ... place. Bristol Palin's prospects are not looking much better after her recent effort, as well. Girl just lacks energy.
One of the two will likely go home tonight, barring a surprising surge of support that would place, say, Florence Henderson on the block instead. But we don't see it happening.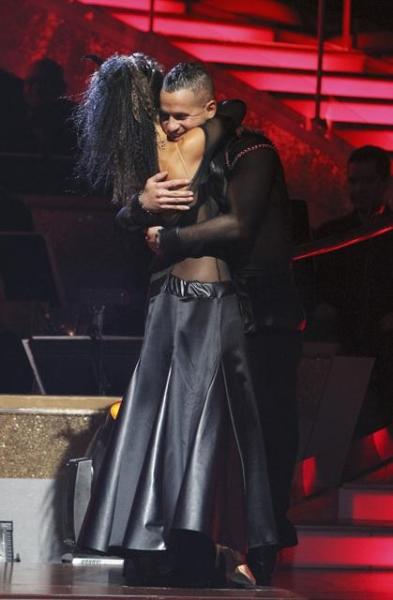 Has The Situation danced with the stars for the last time?
On the opposite end of the spectrum were Jennifer Grey, who beat the field by leaps and bounds this time, and Brandy, followed by Audrina Patridge with another strong effort.
The former Hills starlet has been the biggest surprise of the season, as she was clearly recruited for pop culture buzz only, but has turned out to be a legitimately good dancer!
Meanwhile, Rick Fox and Kyle Massey find themselves squarely in the middle of the pack, while Henderson and Kurt Warner could be vulnerable next week if not this evening.
Follow the jump for last night's Dancing With the Stars scores ...
THE BEST
Jennifer Grey and Derek Hough: 56
Brandy and Maksim Chmerkovskiy: 48
Audrina Patridge and Tony Dovolani: 46
THE MIDDLE
Kyle Massey and Lacey Schwimmer: 44
Rick Fox and Cheryl Burke: 39
Florence Henderson and Corky Ballas: 35
THE WORST
Kurt Warner and Anna Trebunskaya: 34
Bristol Palin and Mark Ballas: 32
The Situation and Karina Smirnoff: 28
Who do you think should go home tonight? Tell us!
Steve Marsi is the Managing Editor of TV Fanatic. Follow him on Google+ or email him here.