After an hour of filler, approximately 120 uses of the phrase "in jeopardy" and a triumphant return from second week castoff Michael Bolton, Dancing with the Stars said farewell to another contestant last night. That contestant was named ... Margaret Cho.
Her tear-filled video montage made us almost as sad as she is to leave the show after just three weeks. What a character. She gave it her best and certainly entertained ...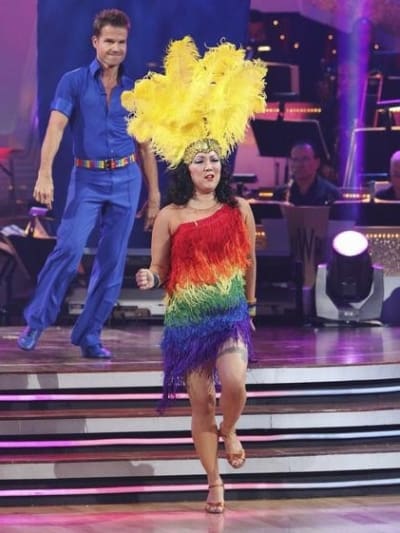 Margaret Cho: Gone but not forgotten.
Louis Van Amstel fittingly said at the end, "Our journey is not over." Does this mean their fight for gay rights, or Margaret's career in the ballroom? Perhaps a little bit of both?
We can only hope. Cho was narrowly beaten by Bristol Palin, who was totally "bumming hard" about being in the bottom three, and Rick Fox (come on), on the results show.
It was definitely funny, given the controversy over his treatment just one week earlier, to see Michael Bolton return to the stage, filling in for the unavailable Susan Boyle.
Hey, at least he went out on a good note now.
What do you think? Did Dancing With the Stars voters get it right this week? Who are you rooting for this season and who do you predict will hoist the Mirror Ball trophy?
Steve Marsi is the Managing Editor of TV Fanatic. Follow him on Google+ or email him here.