It's safe to say that Glee is the only show on television that could depict a character dressed like Britney Spears one week, replete with a snake wrapped around her scantily-clad body, and tackle the topic of religion the following week.
But while I thought the show paid disservice to its characters and any sense of storytelling on "Brittany/Britney," I was blown away by the mature way it broached God, atheism and spirituality on "Grilled Cheesus."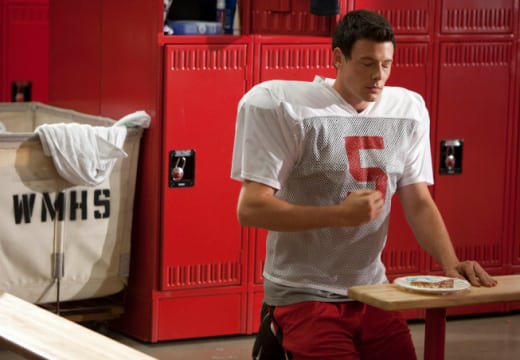 Let's start with the performance of Chris Colfer and hand this actor an Emmy nomination for next year already. He was simply incredible.
Throughout the hour, I was assuming Burt Hummel would awaken from his coma and Kurt would acknowledge that God played a role in his dad's recovery. But the show resisted such an obvious, politically correct resolution.
I don't wish to start a debate on religion (and I ask readers to be courteous and respectable in their comments below), but it was refreshing to see
Glee
not espouse any one message or points of view on the episode - aside from the overall idea of tolerance.
We were treated to a number of various takes on God, some humorous (Finn wants his kids to "totally go to Jew church and wear those hats and eat that salty orange stuff with their bagels."), others serious (Why should Kurt believe, he asks, when God "makes me gay and then makes His followers go around saying it's a choice, as if I'd choose to be mocked every day of my life?"), but all treated with respect and all realistic.
There are people out there who really do believe they've seen Jesus Christ is something mundane as a sandwich, and those that thank God every time they touch a boob. There are also those that take Emma's practical approach, leaving the big questions as a mystery and blaming everyday occurrences of the non-supernatural, and those that don't believe... but clearly want to. Like Sue Sylvester.
In the end, this was the most serious episode Glee has ever aired (though Brittany was still around to tell us that whenever she prays, she falls asleep; and to ask if God was an evil dwarf) and it could have been the most predictable and cheesy.
Instead, it provided the best showcase yet for Colfer and also for Mercedes as a singer (I LOVED "Bridge Over Troubled Water"), while giving viewers a chance to laugh, cry and simply think about how an issue such as religion can touch so many people in so many different ways. Bravo.
What did you think?
Matt Richenthal is the Editor in Chief of TV Fanatic. Follow him on Twitter and on Google+.