Marshall and Lily kept trying to conceive a baby this week and had just as much difficulty deciding on a name for their child as they did in creating one.
The former, armed with his Viking traditions, and the latter with the Internet, were very cute as they each tried to influence the baby's gender. Did anyone else gag when Marshall took out the pickled herring? I loved the Eriksen battle cry and Lily's tryst with the blow dryer. Their bedroom banter is second to none and makes them such a believable couple.
The same could not be said for their Stuart and Claudia. While they fought over baby names, Stuart remarked "don't knock the vodka, we wouldn't have a kid without it."  In addition to a shave, Stuart needed to pump his brakes and take a long hard look in the mirror and thank God for his disproportionately hot wife.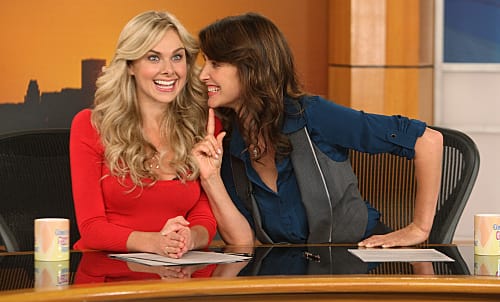 Amazing episode for Barney, from the playground pick-up lines highlighted by "gosh your body is a perfect this many," to looking like a cross between George Hamilton and a blonde Ken Doll when he made out with Marshall's daughter.  I rewound that scene a few times just to see botox Barney try and say "whaddup bro" again to Marshall. 
Marshall's shock and awe face was a perfect contrast to Barney's grin as they watched Esther and her amazing,
ahem
, talent. According to Marshall, the prime rib was surprisingly good, but apparently the roast beef was the real show stopper.
Marshall's recollection of Tarah, the hottest girl in his high school, was epic. Just like Another Bad Creation did for Iesha, Marshall and his friends didn't just talk about Tarah, they didn't just fantasize about her, they wrote songs about her. "Tarah your booty is so smooth and I hope this isn't rude but I want to get up on it!" 
Michael Bivens would have signed them on the spot after witnessing the East Coast swang of their Boyz II Men tribute.  Marshall was a great front man and completed the look with the cane, calf high socks, timberland boots and an amazing rat tail.
I didn't like seeing Robin still insecure about herself this week. She could take care of anything and everything for me any time she wanted. I couldn't decide what flashback was hotter, when she flipped Ted off the couch onto the ground while making out; or when she came out of her bedroom and cocked the twelve gauge.  She and Barney shared a great scene in the doorway of his apartment which culminated in her embracing her self-reliance as only she could.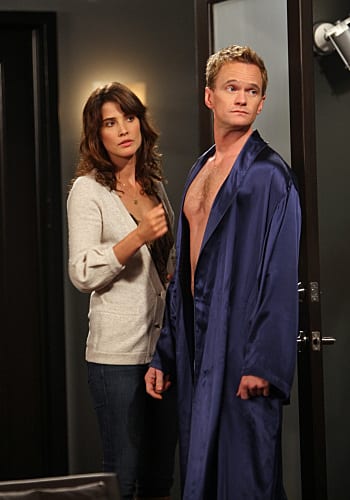 The scenes that showed why Lilly's list of boy names was greatly reduced - thanks to some of her more notorious students, like "honka honka" Rob - were fantastic. What a great cut away to the Pearl Jam video reference when Marshall suggested the name Jeremy. It looked like they had settled on Jamie, only to see Lily storm into the MacLaren's and declare "not Jamie" before she walked away, revealing two painted hand prints on the backside of her pants.
Naming a child is no easy task. To some it's a birth right, to others it can be a life sentence. I was at a wedding this past weekend and our table was discussing "unique" baby names. I mentioned that a friend had recently interviewed a woman who was named La-a, pronounced (La-dash-uh) only to be one upped by the woman next to me who said a coworker of hers just had twin girls and named them Shannon and Notshannon. No lie, cross my heart, hope to die, true story.  So, in retrospect, maybe Jamie would not be such a bad choice.
Great final scene where Ted realized how creepy the Becky baby talk was. He walked away just as she dropped her ice cream. Want a lick? Psych! All in all, a great episode that played to the strengths of the entire cast.