In case Vampire Diaries fans weren't sure about the major development on this week's episode concerning Tyler, Michael Trevino has a message:
"It's official now."
He's speaking, of course, about the Lockwood curse and the fact that his character is now a werewolf. What does this mean? How does the actor feel about the transformation? Trevino spoke to Entertainment Weekly soon after "Masquerade" aired...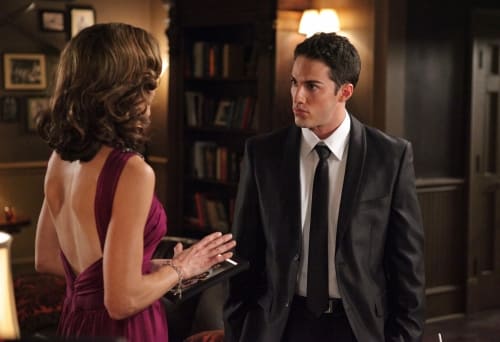 What comes next?
It's at the point where the next few episodes are going to be about preparing for the next full moon that comes. You're gonna see Tyler do more research, because now he realizes he's not going to be able to stop himself — it's just inevitable.
What will Tyler do when the full moon hits?
We have not shot that... I would think that he's gonna go down to those old ruins were Mason was and probably do what he was doing and just lock himself up. And hopefully he doesn't hurt anybody. He won't be able to control himself, especially the first time.
Will Caroline and Tyler continue to bond?
I think that they will. You have two people who have a secret. Maybe she'll, in the future, tell him her secret. Why does Caroline feel the need to want to help out Tyler? 'Cause Tyler doesn't really have anybody. He was just fighting there with Matt, and Jeremy seems to be having a little situation with Bonnie. It seems like Caroline is opening herself up to him. I would imagine he'd go to her for help or just to talk to somebody.
Will Tyler interact with Katherine?
Obviously, Katherine needs a werewolf. Maybe it would happen when this next full moon occurs and Tyler does the transformation. Maybe then she'll be more aggressive in seeking him and using him. But this is just speculation.
Read the full interview on the official EW site and, as always, discuss this storyline and others in our Vampire Diaries forum!
Matt Richenthal is the Editor in Chief of TV Fanatic. Follow him on Twitter and on Google+.