Because all shows somehow feel obligated to do Halloween episodes, and thanks to a little piece of Zeek Braverman history, October 31 is a huge deal for the Parenthood clan.
What could have been just another bunch of forced Halloween stories turned out to be pretty great, however, blending humor and drama seamlessly as the show always does.
"Orange Alert" was yet another example of why Parenthood will never be that popular and why it's so good. Slow-moving, nuanced and understated, it's almost too true to life.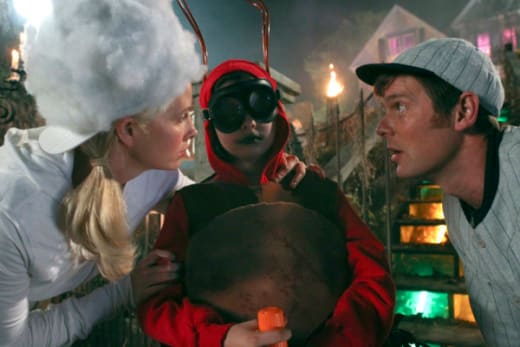 Parenthood was still heartwarming and funny, only in costume this week.
We never guessed that Zeek of all people had a touching Halloween story to relay, telling Max how he and Camille crammed all the holidays into the Halloween before he went to Vietnam.
Every once in awhile, Craig T. Nelson peels back a layer of a guy you forget is there, making Zeek more than the cliched, curmudgeonly old grandpa everyone has. What a great scene.
Naturally, for Max, Halloween poses a host of issues. Ones he's even beginning to realize, one week after Adam told the support group he can't explain his son's Asperger's to him.
The way Kristina freaks out and tries to control everything is typical of not just Kristina, but any parent grasping at straws, looking for anything to establish they've done their very best.
Sometimes, you just have to wing it. Practice trick-or-treating only gets you so far. Max knows it and so does Kristina, even if she's high-strung to begin with and worried sick about him.
There's no playbook for raising a child, especially one with Max's condition, and seeing Monica Potter portray a mother coming to grips with this hits close to home for any parent.
Oh, and how much were you cheering for Max at the end?
Lauren Graham's Sarah, on the other hand, is not particularly relatable. She's really into boss Gordon now, having cast aside poor Mike, and really cranks up the inter-office flirting.
It's kind of nauseating. Still, as the episode progressed, her scenes became more endearing, and even if she's annoying at times, we find ourselves pulling for her to be happy.
You can't help but wonder if this is a recipe for disaster, though. Things are moving so fast, and he's already seeing the single parent aspect of her life ... we'll see how she handles it.
As a married parent of one small child myself, Julia and Joel and their myriad struggles with parenting - not just child-rearing, but marriage and gender roles - always strike a chord.
How do you balance letting your child do what it wants with what you think would be best for him or her? Such a subtle question, yet one any parent asks 10 times a day at any age.
Sydney could definitely pull off the beauty queen thing, even if she's no stereotypical airhead. She just wanted to be who she wanted to be. There's no crisis of conscience at six.
Speaking of torn, poor Crosby wants to commit, he just doesn't know how. Dax Shephard is typically convincing as the somewhat-bumbling, well-intentioned youngest Braverman.
Anyone in his shoes would struggle with the idea of becoming Adam, despite his genuine feelings for Jasmine and Jabbar. Not everyone would be as big a pain about it, though.
In one of those moments that could reach eye-rolling levels of cheesy if the acting and directing weren't top-notch, but somehow work, Croz "proposes" to her with a spider ring.
Hey, he's trying, alright?
It's hard to say who had the night's best costume. We'd probably take Amelia Earheart by a hair over various bananas, cockroaches and/or cotton swabs (we actually guessed Q-tip).
All in all, it was another strong installment of Parenthood. Like Jason Katims' other series, Friday Night Lights, this has the cast and the story line potential to last years and years.
Here's hoping NBC lets it.
Steve Marsi is the Managing Editor of TV Fanatic. Follow him on Google+ or email him here.