Another episode of Sons of Anarchy has come and gone, and our friends from Charming still have not made it to Ireland. But unlike a few other episodes this season, "The Push" never once had me wondering why SAMCRO hadn't made their way to Belfast yet.
In "The Push," I was so engulfed by Tig's feud with Kozik, Gemma getting in with Stahl, the gang taking care of the bed ridden rat, and Jax's affair, that I was fine with finding Abel being on the back burner.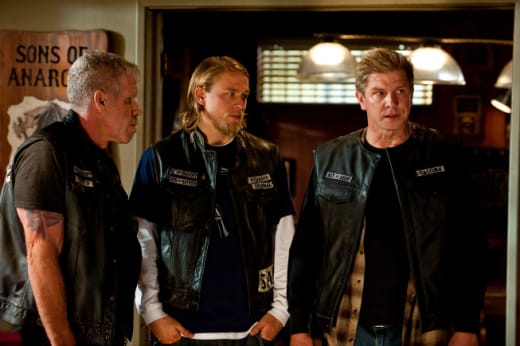 In a show like Sons of Anarchy, with so many great minor characters, it is nice when one comes out from out of the woodwork of the season and gets into the thick of things.
He had some seriously important moments in season one, but for the most part Tig has taken a backseat this fall. His feud with Tacoma Charter member, Kozik has brought him to the forefront and it was awesome seeing Tig vote to keep Kozik out of the Redwood Originals.
Something major went down in the past, that we are still not privy to, but when we find out, it better be epic. I thought it was the right decision for our sakes.
Happy deserved to become a member of SAMCRO because he's been around forever and we have grown to love him. This Kozik character has just shown up and he doesn't deserve to sit at the Redwood until we, as an audience, say it is okay.
So Gemma figured out that Jax was in with Agent Stahl and had to go along with their plan. Usually it's Gemma telling everyone how things are going to be, but this time it was her baby boy laying the hammer down and ordering her to go along with his plan. Studly.
But when Gemma started giving her deposition about what happened at the shooting, she had me confused. Maybe it was Stahl's brilliant portrayal of an ATF agent completely caught off guard, but even I thought she was going rogue and not agreeing to what Jax told her to do. In the end it was just a clever ruse, and everything is going as planned for young Jackson Teller.
The problems between Tig and Kozik came up again when the guys went to the hospital to take care of the rat from Calavaras. Although Tig did get knocked upside the head by the dude, they could have handled things without Kozik knocking the guy unconscious. I was definitely on Team Tig in that moment, but everything turned out fine according to the cops' report of the death.
The best, and maybe only, moment of hilarity this week came when SAMCRO screwed with Calavaras by pulling their motorcycle dudes into a trap so that they could show the Mayans what a bunch of idiots Calavaras are.  As the Sons shot at them, my boy Chibs consistently aimed with his gun behind his back and it never stopped being funny. So Clay and the guys suggested the Mayans use the Grim Bastards for their business in Lodi and now SAMCRO has more a handle on what is going on over there, and things are quiet between the Sons and the Mayans.
It seems like the perfect time to head on over to Belfast.
And finally we get to my least favorite part of this week's episode. My boy Jax gets fed up, let's Tara have it, and cheats on her with Ima the porn star. She had been feeling Jackson for quite a while now and the Vice Pres finally gave in to her wants and desires. He first accuses Tara of being untrustworthy because the cops found out about the drugs, but was that merely an excuse so that he could stray?
Maybe. I just don't like that we now have another leading man in this crime world that cheats. Can't we have a stud that gets the job done and is monogamous with his lady?  I guess you have to cause conflict somehow, but I was happy with the way things were.
I've said it for an amazing amount of week in a row, but this time it has to be right, right? The Sons have to be heading to Belfast next episode! I'm going to lock that one up. Take it to the bank. The question is, what kind of problems will it cause in both Ireland and California?
Other thoughts:
I love seeing the ins and outs of the Sons of Anarchy. The voting process to let others into SAMCRO and giving the new Prospects their cuts was awesome.
Oh yeah! The Nords are back, yeah!  What a spiteful jerk Darby is though, ratting on Jax and Tara selling those scripts.
Unser: "It happened fast." Clay: "Yeah, it sure did."
Dan Forcella is a TV Fanatic Staff Writer. Follow him on Twitter.