We know that a main character will die on The Vampire Diaries. And we might now know when.
Talking to TV Guide, producer Kevin Williamson previewed the show's October 28 episode, "Masquerade," and told the publication that a costume party will lead to a "bloodbath."
What else can be revealed about this Halloween-themed installment? The following spoilers: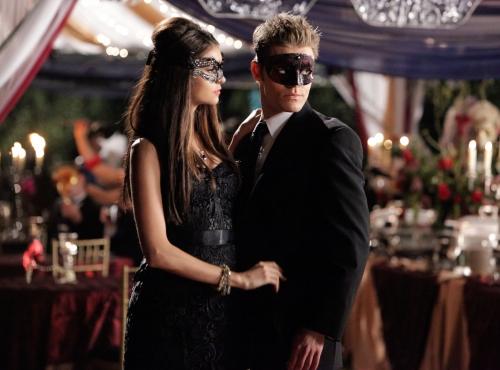 Katherine will accompany Stefan to the event. Both must pretend she's Elena.
"At the party, when she's alone with both Stefan and Damon for the first time since she's come back to town, Katherine rips the masks off their faces," Williamson ominously, mysteriously teases.
Katherine will choke Caroline and ask her about the location of the moonstone.
Nina Dobrev says her darker half will be on the war path: "Now that Stefan's rejected her, she has no ties to the town anymore, so she'll do anything and everything. She doesn't care who she kills. Even if it's in front of a room of people. There's almost no way to stop her."
It doesn't get more enticing than that, does it? Before this episode airs, of course, we'll be treated to "Plan B" on Thursday night. Watch a clip from it and a preview for it HERE.
Matt Richenthal is the Editor in Chief of TV Fanatic. Follow him on Twitter and on Google+.