Despite the lack of screen time for my favorite character, Tracy, this week's episode of 30 Rock was still a winner.
Thanks to "College," this bounce back season continued with stellar performances by Alec Baldwin, Tina Fey and everyone in the writers' room.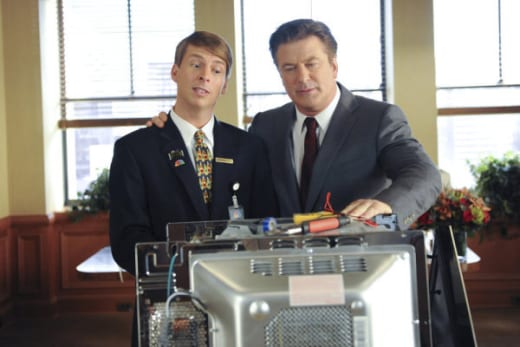 Liz Lemon, who once upon a time was one of my favorite female characters on television, has had a disastrous season.  So much of what I found funny about her in years past had just become annoying. 
That changed this week as she tried to win over the crew members like she was a college freshman - and then ripped their hearts out, only to eventually embrace their hatred.  That line about Willie Mays after her first ever fist bump? Hilarious.
Now, although I found the writers' attempt at a practical joke on Pete to be a bit over the top and obvious at first, it had great dividends.  Pete buying that it was Jack on the phone made me roll my eyes, but the episode concluding with him in his boss' office - a beer in hand, poncho on back, guitar in lap - more than made up for it. 
Jack being happy to see him at the end of a long day made the moment both sweet and hilarious.
We had two perfect instances of the show capping off a joke perfectly. The first began when Tracy referred to himself as "the nerd who takes off his glasses and everyone realizes he's handsome." The next time we saw him he was wearing big black glasses, and then when he actually takes them off Jenna seems to see him in a brand new light.  Great stuff.
The next time was with the microwave oven inventors.  I thought these guys worked great the entire episode, but what got me was how they kept remarking on how Jack was just another white guy to them.  By the final time they mentioned it, I thought "come on, again?" but when Alec Baldwin came in as the delivery guy, I absolutely lost it.

And now some of our favorite 30 Rock quotes from the episode:
Kenneth: You know my uncle was a tinkerer... until the FBI shot him. | permalink
Jack: Lemon that's the smartest thing you've ever said.
Liz: Really? What about three years ago when I said there should be more tv shows about cake? | permalink
Liz: I always forget you used to be poor.
Jack: Thank you. | permalink
Tracy: Your boos are not scaring me. I know most of you are not ghosts. | permalink
Jenna: Liz women wearing men's watches is so over. The new thing is to get an Adam's Apple. | permalink
Jenna: I'm the hot blonde...
Tracy: And I'm the nerd who takes off his glasses and everyone realizes he's handsome. | permalink
Dan Forcella is a TV Fanatic Staff Writer. Follow him on Twitter.