"You can't mix Leonard Bernstein and the queen of the gypsies!" - Nora
On last night's Brothers & Sisters, Luc's mom paid a visit to Pasadena. Luc was less than thrilled, but we were pleased after watching Sonia Braga steal almost every scene.
"The Rhapsody of the Flesh" was fittingly named for the faux French film Gabriela Laurent starred in back in the day, and it's safe to say she still has a flair for the dramatic.
While her story line took up the bulk of the episode (Holly, Kitty and Saul did not even appear), it was worth it for some rare insight into how Luc was shaped as a person.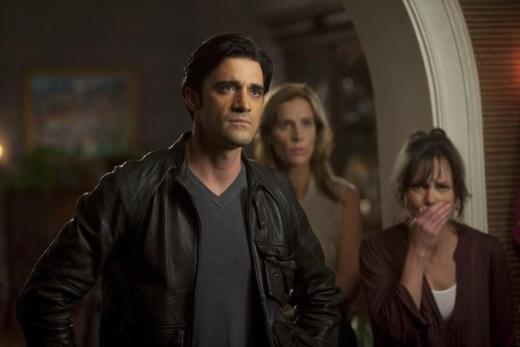 Nora's face says it all. Luc can't believe it either.
We begin with Dr. Karl, a.k.a. the senior Dr. Shephard from Lost, who invites Nora over to his home to watch a documentary on PBS. Will they be more than friends?
If Luc's mother has her way, heck yes. That's because no sooner does she show up unannounced than she begins interfering with Nora's relationship with Dr. Karl.
In a good way, of course ... or so she thinks. When the good doctor's cable goes out, what's a good visiting mother-in-law to do but invite him over for dinner?
Nora flips, and it only gets worse when Dr. Karl arrives and is taken aback. He can't believe he's in the presence of Gabriela Laurent, star of
The Rhapsody of the Fles
h!
Luc isn't coming, which makes Sarah upset. Meanwhile, the B story of the night takes place at the restaurant, where Justin is working a hot waitress named Kimberly.
He's also making out with a chef there, but since they work opposite shifts, it's all good. Until they change shifts, and he high-tails it to avoid an incendiary situation.
We sort of missed the point of why Justin's doing this, especially since we know his relationship with the nurse from last week should have legs, but it soon got better.
After fleeing work, he arrives Nora's place to catch Gabriela table dancing. Moments later, she and Justin are dancing atop that table, just as Luc decides to show up.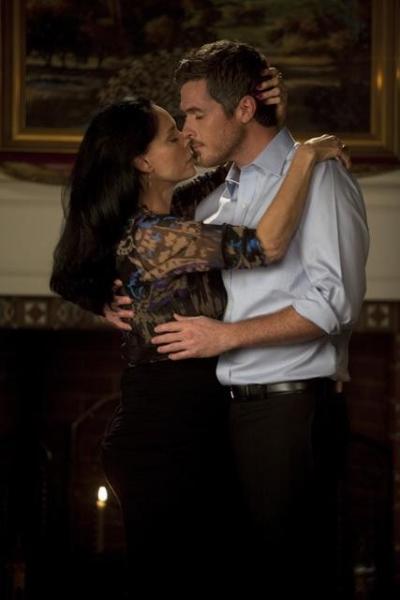 No one can resist Justin Walker.
Luc is angry with his mother, but they eventually make amends, and bond over a terrific foreign film called The Rhapsody of the Flesh. Feel like we've heard of that.
Nora and Dr. Karl decide check out the same flick at his place, and this time, there is no last second interruption of their kiss. We have a good feeling about these two.
We did hear briefly that Kevin and Scotty are still working through their issues, but it was largely a week free of the drama that's dominated the show for weeks now.
Mainly, it was about Luc and his mom, which had the potential to be a forced story, but ended up being funny and sweet, since we really know so little about the man.
Some back story to Luc (besides him being a hot, European artist) was good for the character, and come on, his mom is awesome. She's like a Walker on steroids. 
Self centered, melodramatic and well-meaning almost to a fault, Gabriela showed the Walkers a thing or two about being Walkers, making for a quality episode.
We just hope mending fences at the end leads to a return by the Laurent matriarch at some point. They can't stay estranged forever, can they? We really hope not.
We sense a guest appearance on Nora's show ...
What did you think of last night's Brothers & Sisters? What was your favorite and least favorite part? Did you like the Luc-centric episode? Discuss!
Steve Marsi is the Managing Editor of TV Fanatic. Follow him on Google+ or email him here.