Tuesday night's results show was a foregone conclusion in the sense that Kyle Massey, Jennifer Grey and Brandy had already punched their tickets to the next round.
Even by Dancing With the Stars standards, this was predictable. While Monday's impromptu routines made them look great, they weakened the other two dancers.
Kurt Warner and Bristol Palin had to worry. It just came down to whether Sarah's daughter could skate through yet again or if nice guy Kurt had enough fan support.
Who's in and who's out? Find out after the jump ...
Kurt Warner got the boot! Bristol Palin survived!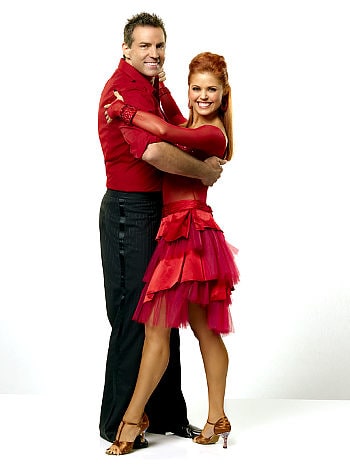 Kurt Warner and Anna Trebunskaya had a great run.
The former NFL quarterback didn't seem to be shocked by the outcome of Tuesday's show, saying, "I think, obviously there was the possibility when you're at the bottom two."
"I think we came in a number of times this year when we were low and just kind of expected that the possibility was there, and you have to mentally prepare yourself for that."
The three-time Super Bowl starter and two-time NFL MVP added "I'm going to miss [Anna Trebunskaya]. You know, I mean, when you spend so much time with someone and build a relationship, you know, it's going to be tough not seeing her every day."
Anna jokingly noted that "You're going to miss Monday nights. You're really going to miss going out there in the bright neon green with fringes on your pants."
Indeed. What did you think of the voters' choice this week? Should Kurt have stayed? Who are you rooting for among Dancing With the Stars' final four?
Steve Marsi is the Managing Editor of TV Fanatic. Follow him on Google+ or email him here.