Dancing With the Stars Review: "Week Nine Performances"
Steve Marsi at .
Dancing With the Stars is down to four pairs this season, and last night, each danced two full routines. First, a Latin number with a solo. Next, a ballroom dance they had never performed before.
When the dust settled, three things were abundantly clear:
Jennifer Grey deserves the title, hands down.
Bristol Palin deserves to be eliminated, ASAP.
The previous item likely won't matter.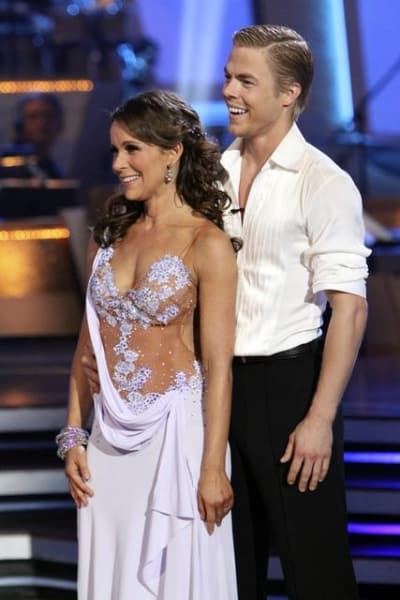 30-FOR-30, TIMES TWO: Jennifer Grey was doubly perfect last night!
It was an action-packed 90-minute program, with the coveted Mirror Ball trophy so close that Jennifer, Bristol, Brandy and Kyle Massey can almost taste it. They can sniff the thing.
To their credit, all four contenders really brought their A-game last night. Even Bristol Palin, whose A-game resembles everyone else's B-game, was far from embarrassing out there.
Still, Jennifer was literally flawless, with a score of 60 out of 60 to end the night. Where did everyone else stand after the dust settled, and how will the votes be cast this week?
With just one more results show before the season finale, the tension is rising, and someone's heart will be broken tonight. Will it come down to their skills or pure popularity?
Follow the jump for last night's Dancing With the Stars scores ...
The Dancing With the Stars leaderboard:
Jennifer Grey and Derek Hough: 60 (30, 30).
Kyle Massey and Lacey Schwimmer: 58 (29, 29).
Brandy and Maksim Chmerkovskiy: 57 (30, 27).
Bristol Palin and Mark Ballas: 53 (27, 26).
Who's going home and who's on their way to the finals? Can Bristol pull off her biggest upset to date, upending one of these three deserving finalists? What do you think?
Steve Marsi is the Managing Editor of TV Fanatic. Follow him on Google+ or email him here.