With Dexter having introduced Lumen to Harrison, and with the title character of this Showtime drama taking a major step in his relationship with this outsider, producer Chip Johannessen was asked by E! News this week where the bond between these characters will take them?
His response: A surprising place.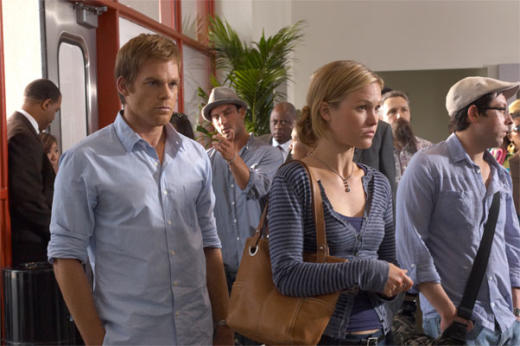 Here's a look at other ways Johannessen teased the rest of this season:
What can he reveal about the future of Dexter and Lumen?
People are asking the right questions. Nobody's come up with the answer that we did of where this thing goes, but close. This relationship is going to end in a very, a unique way.
What about Quinn and Deb?
This connection with Deb will grow to be significant for him, so he's got a lot of stuff to handle. [Their relationship] is major piece that we wanted to play this whole season. Deb's situation with Quinn, which is just bobbing along at this point, intensifies in one way or the other. Or both.
Will Deb get closer to discovering the truth about Dexter?
Deb will enter Dexter's story in a surprising way. She makes some progress when you don't expect it, and in certain ways will come radically closer.
A new episode of Dexter airs tonight and the producer says it's "a huge episode for both Julia Stiles and the show."
Matt Richenthal is the Editor in Chief of TV Fanatic. Follow him on Twitter and on Google+.