One of my favorite aspects of early Sons of Anarchy was that Jackson Teller, this young, brash outlaw gang member, was struggling with whether or not to attempt to lead a more noble life.
Those days reading his father's manuscript, pondering about legitimizing SAMCRO, quitting gun-running, and cutting out violence from his family's life, were some of the show's best. 
The combination of Clay wanting him to become the ruthless future leader the club needed, and his son getting kidnapped, forced Jax into a state of all out bad-ass-ity in which he never once blinked at torturing or killing someone in cold blood.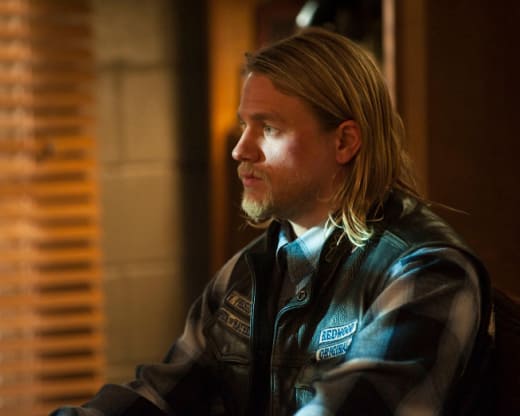 In this week's episode, "Bainne," Jax returned to his pondering nature, slowly weighing the options of stealing back his own son, or allowing him to remain in the arms of a loving couple.
The scene in which he followed the young family was fantastic, because I truly didn't know how, or if, he would attempt to get his child back.
As the haunting tune, "Alesund" by Sun Kil Moon, helped reveal every ounce of emotion in Charlie Hunnam, it became so apparent that this was a truly difficult decision. 
I can say that if I were in his shoes, I'd do what ever I had to to have my kid back, but given the situation I would not have had a problem with anyone letting their kid go to such a nice family. I don't care how scary Gemma Teller is.
In a surprising twist, Jax did let Abel stay with his new family.
The problem, of course was that Jimmy O shot the new parents in the head and stole Abel to trade for safe passage out of Ireland. Now when Jax finally got his boy back in his arms, thanks to Father Ashby's first and only unselfish deed of giving himself up to Jimmy, he stated that he'll "never let anybody take [Abel] from [Jax] ever again." 
Quite a quick flip-flopper, wouldn't you say?  On the other hand, the kid is probably safer in the arms of his Dad than with anyone in Ireland, as long as Jimmy O, Ashby or anyone else we've met is still around to do the boy harm.
One of show-runner Kurt Sutter's defenses of the third season has been that the series needed to delve deeper into the mythology and that Jax need to learn more about his father. My problem with that logic was that neither of these things had really been happening this year since the premiere (that was about eight episodes' worth).
There was a bit of it last week, in Gemma and Mo's fight, and Ashby explaining his plans for Abel were because of John Teller, but "Bainne" had mythology for days.
It started and finished with Jax's Abel problem, but we also had Father Ashby bringing up more of his thoughts on John Teller, and Mo with her letters from JT. 
"Don't pretend you're trying to help us," Jax told Ashby. "You don't give a sh*t about this family, and the John Teller you knew 20 years ago, he didn't give a sh*t either." 
So Jax's feelings for the beloved JT might have soured a bit, and his thoughts towards the legendary manuscript might have changed as well. He now suspects that it wasn't about changing the culture of the club, but instead it was the culture of his legacy.
So maybe the message is for Jax to remove himself and Abel from the lifestyle. Maybe we get a season four in which Jax tries to remove himself from all SAMCRO business. That could be an interesting avenue to pursue.
Mo broke out some letters written by JT back in the day that have some pretty personal thoughts, including the fact that he saw Gemma and Clay growing closer while he was still alive. Before SAMCRO made embarked on their journey back to the States, Mo shoved the letters into Jax's backpack, which may lead to more interesting developments down the road.
So Jax got his kid back and all of the SAMCRO members in Belfast are safe and sound as they make their way back to Charming, but as one crisis gets wrapped up, another is on the horizon. The episode ends with Tig calling the boys to tell them about the Tara situation back in Cali.
These past two episodes have been fantastic, and as the Sons make their way back to the U.S., I have nothing but high hopes for the final two episodes of the third season.
Other thoughts:
Tara is an absolute crisis pro at this point. From the beginning of the ep when she was cool as a cucumber, sitting next to a hysterical Margaret, to absolutely studding it up as she cut Salazar's old lady and making a deal to save her boss.
Speaking of studs, how great is Jimmy O? He cares about absolutely no one.  After shooting Sean Casey in the face, splattering blood all over the wall, his number two asked "Who do you think has to clean that up?"  Jimmy simply replied, "You," and was on his merry way.
Although the Hale/Unser story line has really brought nothing to the table this season, I can see it paying off in the final two episodes, or come season four. The Charming Police Department being taken over by a group that will stand for none of SAMCRO's foolishness? Sounds interesting to me.
How crazy is Gemma Teller? I was out of my mind when she pointed that gun at some random baby. When you make Jax Teller look at you like you're a nut bar psychopath, you might actually be one. I would have only been 80 percent shocked if Gemma killed that baby then and there. Now that is truly saying something.
Of course the ATF-backed money drop didn't work out so well for Tig and the rest of the SAMCRO crew still in Charming. But what I wasn't expecting was for some random kids to see what was going down and attempt to steal the bag full of money. Great move by those kids, but a absolute fail by Tig, Stahl and company.
I don't understand what happened with the IRA council, and why they allowed Jax to handle the Jimmy thing. I assume I missed something with all of their crazy accents, but weren't they supposed to deal with him internally?  Why'd they let Jax do the trade all on his own. Did Ashby go rogue on the council and set up this deal to finally do something good?
And finally, speaking of Jimmy O, how is Jax going to get him to Stahl? I know he's on his way to the U.S., which makes it still possible, but you'd think he'd be a little more worried that his mom was on track to go away to prison for life.
Share your thoughts on all things Sons of Anarchy below!
Dan Forcella is a TV Fanatic Staff Writer. Follow him on Twitter.