When we last left Emily Fields on Pretty Little Liars, her mom had been sent a photo strip of her making out with Maya and her father had returned from war.
How will these developments impact the character? On a conference call with reporters this week, Shay Mitchell warned us to prepare for many "intense moments."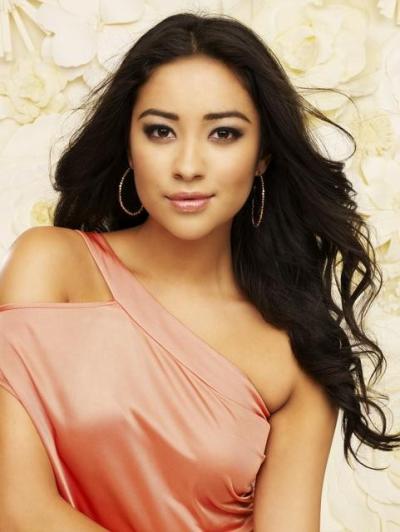 "The stakes are raised a lot higher with her different relationships with her family members and such friends because of everything that happened in the first half," the actress said. "It just gets more intensified."
Below, Mitchell also touches on the continued presence of A on the show, as well as how her fashion tastes differ from Emily's.
On clothing making the character
:
When I come to work and when I'm in Emily's wardrobe, I turn into her and it's great because it helps me so much.  But my style is completely different from hers and not for any bad reason or anything, just because I'm so girly and I love playing dress-up.  I love sequins and I love bright dresses and high-heeled shoes. I just like having fun with fashion.
On A hitting Hanna with a car:
It's definitely raised the stakes.  It's made the girls a lot more aware of everything that goes on around them... when he/she hits your friend with a car meaning to probably kill you, you definitely are a lot more careful with everything and just you realize that now A is not messing around whatsoever. 
It kind of brings each of the girls closer to one another because this traumatic event happened.  And it just makes them want to find out even just get closer and figure out who A is now.  So all of the girls are on more of an intense mission to try and figure out who A is.
On sending a message to fans through Emily:
I would want for them to see themselves. I don't think there's anything more important than just being true to who you are and living an authentic life.  And if they get anything from that, it's just be you, live your life and don't be afraid about what anybody else says.  At the end of the day, it's only what you think, so that's what you're happy with.
For more on the second half of the season ahead, visit our Pretty Little Liars spoilers section. Now!
Matt Richenthal is the Editor in Chief of TV Fanatic. Follow him on Twitter and on Google+.