As the character of Noel on Pretty Little Liars, Brant Daugherty has a message for Aria: Look out!
Well, sort of.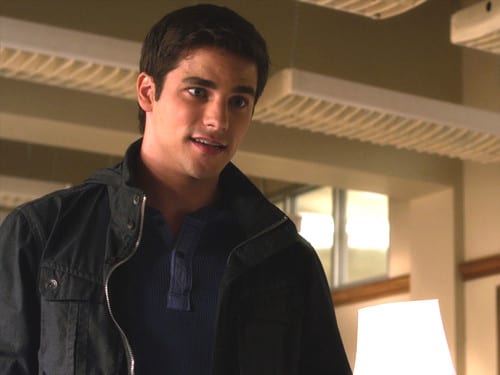 In a conference call with reporters, the actor was asked about Noel's future with Aria - despite the way A took care of his presence a couple episodes ago - and made it clear that Noel still sees one.
"I think that she has picked Ezra in the love triangle, but I'd have to say that Noel is a pretty persistent guy," Daugherty said. "I don't think that he's going to give up without seeing it through to the very end."
Interesting. We also asked the young star for any Pretty Little Liars spoilers he could reveal, including the identity of A. This is how he replied:
Do you know the identity of A?
I honestly have no idea. I've been watching and following it with the fans trying to figure it all out and God knows, they don't tell me anything about that, but I'm right there with everyone.  As far as Noel fits into that, you've got to look at his motives and the situation he was put in.  He may not necessarily be working maliciously as "A," but he's still got a bone to pick and he's still trying to figure things out for himself.  Ultimately, at the end there, at the end of
Episode 13
, he becomes a victim himself, which adds another interesting twist to it.
What does the future hold for Noel?
We're just kind of see how he's going to relate to these four girls and what interaction he's going to have.  As far as specifics, I'm afraid I can't delve too much into that, but he is a character in Rosewood and we're going to see a bit of him around town and everything.
Matt Richenthal is the Editor in Chief of TV Fanatic. Follow him on Twitter and on Google+.