Kevin and Scotty's adoption quest was taken to a new level this week on Brothers & Sisters. But this being Brothers & Sisters, you knew it wouldn't be smooth sailing with Olivia.
Treating their first weekend together as if it were the rest of their lives, while also babysitting Paige, the guys bust her with a boy in her room. Uh-oh. Sarah will not be pleased.
After Scotty mentions donating to the Gay & Lesbian Center, Saul says he doesn't volunteer there since he learned that Jonathan was a part of it. They're very much in a fight.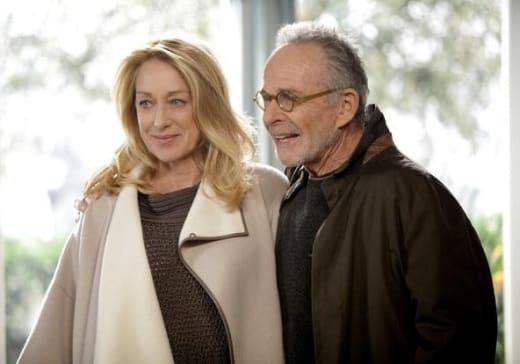 Meanwhile, Nora helps Holly pack but she calls off the flight at the last minute when a bunch of memories keep flooding back. She tells David to go and that she'll watch Holly.
Holly accuses Nora of trying to "Nora Walker" her into staying. Pretty much.  Nora suggests that Holly move in for a while, which seems forced, but ... she's just Nora Walkering.
Justin was basking in the glow of his heroics last week (and the glow of a romantic candle) but his supervisor informs him he may be suspended for them (and to blow it out).
Making things harder on Justin? Annie's old flame Rick passes through, and Justin gets jealous in about three nanoseconds. It's the fact that he's British, isn't it J? We get it.
Afraid of what happened after her brother's distress call, Sarah returns home to scoff at the idea that Paige had a boy in her room, as she and Philip have been friends for life.
Except Shawn is the boy's name.
Things get even more complicated when Kevin and Scotty are trying to put Olivia's desk together (Kevin? A control freak? No way ...) when Scotty's missing wallet turns up.
Olivia had ganked it. Cold move.
At the adoption office, Scotty and Kevin second guess themselves even more when Olivia comes in and says that she doesn't want them to adopt her or see her anymore.
Sarah says they need to fight for her if it's what they want. Paige reveals the true reason she was hiding Shawn. He wanted to talk to Kevin and Scotty ... about being gay.
Didn't see that coming. Oh, and Philip has a girlfriend now. It's great to see World's Greatest Mom Sarah humbled by her own cluelessness sometimes. We've been there.
Jonathan asks forgiveness from Saul, doesn't get it, then leaves for good. But before he can, Saul tracks him down and forgives him. Ron Rifkin is so underappreciated.
It looks like Holly really is leaving this time, as is Kitty, although the latter will be back. She's probably just off to spend more time with boy toy Seth. Can you blame her?
Of course, this absence is bound to trigger speculation about Kitty's cancer. Calista Flockhart is only taking a few episodes off, however, so your guess is as good as ours.
Nora and Saul find old home movies in some of Holly's boxes. Only they're not the home movies like you're thinking of, but surveillance films of Nora that William filmed.
Interesting.
Kevin and Scotty have a final sit down with Olivia, telling her they're moving forward with the adoption no matter what she thinks. Wouldn't you know it, it was all a test.
One that they passed. But don't expect it will be the last, she says. For adoptive parents to be, that's probably what they needed to hear. Brace yourselves, you guys.
What did you think of last night's Brothers & Sisters?
Steve Marsi is the Managing Editor of TV Fanatic. Follow him on Google+ or email him here.