It was a cathartic episode for some on last night's Top Chef. 
During the time-honored tradition of Restaurant Wars, Marcel's Team completely disintegrated and turned on their leader by screaming and cursing, almost making me feel bad for Marcel.  Let's break it down, shall we?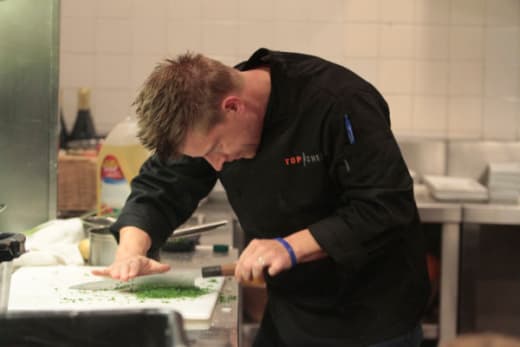 The Quickfire Challenge
Before the epic Restaurant Wars, the chefs are sent to Le Bernadin, Eric Ripert's luxury seafood restaurant. They're instructed to watch Jutso Thomas butcher a fish perfectly in 10 minutes... and then do the same in 8! 
Where is Hung (Season 3) when you need him?  Suffice to say, it's quite gory and messy when the fish guts come spilling out.  Marcel, Dale, Mike, and Richard do well and proceed to make a winning dish out of all the "undesirables."
Gotta give props to the chefs for creativity; despite how gross the guts looked, their final dishes were impressively upscale and looked delicious.  Dale, who's been kicking ass lately, wins with a duo: a fluke back fin sashimi with cucumber and bacon dashi in cod collar.
The Elimination Challenge
The guest judge for the evening is dramatic Ludo Lefebre from Top Chef Masters.  I love how this episode utilizes famous chefs, along with creative up-and-coming dining trends.  Ludo encourages the chefs to use the new "pop-up" restaurant concept for their own restaurants.
Dale gets to pick his team and very cleverly chooses Marcel to be the other team leader.  Marcel seems oddly honored by Dale's choice, although it's pretty obvious that Dale is using Marcel's lack of social skills to make the other team fall apart.
Sneaky Dale's team calls his restaurant "Bodega" and gives it a clever theme: comfort food with upscale presentation.  Actually, the concept is really cute, and they clearly pull it off; they smartly put Fabio in the front of the house, and everyone seems to interact in a pretty positive way.  Well, Dale screams at the wait staff, but other than that, Bodega is highly successful.
Meanwhile, as Dale anticipated, Marcel's team is falling apart.  I'm not sure why they put Tiffany at the front of the house because she doesn't do much other than shuffle, laugh nervously, and mumble. Mike, who harbors an intent dislike of Marcel, doesn't say a word. Oh, and their restaurant name is "Etch." It has a Mediterranean theme with a twist.  Surprise, surprise, Etch doesn't score well with the judges.  Nothing seems to go well for them; from service to the food itself.
Judges Table
It's a complete free-for-all.  Ludo rewards Richard $10,000 for being such a team player and contributing to everyone's dishes.  Yay, Richard!
On the flip side, the judges are quite cruel towards Marcel's restaurant.  They hate the foam, as usual.  Ludo doesn't like the crudo (hey that rhymes!), something is too mushy, something is too salty... it goes on forever.  Then, the chefs completely lose it and commence with a huge screaming match, as the judges look rather embarrassed at the level that Top Chef has sunk to.  It's not Jersey Shore, after all.
In the end, Marcel is sent home, to no one's surprise except his. I won't miss him. Will you?