Anxious for Jaime to leave, I tuned in to Top Chef last night and hoped to see my wish granted. Let's go over all aspects of the episode to see what transpired, shall we?
Elimination Challenge
This installment took our chefs fishing in Montauk. There's no Quickfire Challenge (boo!), but the contestants are instructed to catch enough fish to feed a hundred people for their elimination challenge.  The stakes are high because it's a double elimination week.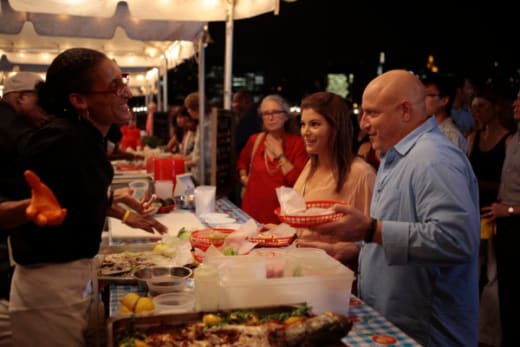 In teams of three, the All-Stars all attempt to fish - and some are obviously more successful than others.  The montages are pretty entertaining; Dale really does look like he's in labor, while Fabio and Richard Blaise basically sit on Marcel's lap to reel in their catch.
In the end, everyone does catch enough to feed the people at the beautifully scenic beach party.
Judges Table
The biggest problem with group challenges is that if one person messes up, the entire group pays for it.  Case in point: Jaime makes a bad dish, and Antonia and Tiffani have to pay for her mistakes!  It's especially hard on Antonia because everyone loved her po-boy.
Its' no better for Marcel, Richard and Fabio because they made only one dish and it wasn't a very good one.  I think Marcel should have gone home for leading his teammate so far astray.
But it's actually Tiffani and Jaime who get the boot.  Thank goodness Jaime is finally sent away. It is a bit sad that Tiffani is leaving; she was pleasantly low-key compared to her aggressiveness from season one.
On a brighter note, Carla wins a trip to Amsterdam for her efforts!  Her take on New York's lox and bagels wins points for taste and originality from the judges.
Were you cheering as loudly as I was when Jaime's name was called? Who else did you think deserved to be eliminated?