Things between Hank and Abby got interesting on "Freeze-Frame," as she revealed how she wrote a novel at one point.
However, after her then-writer boyfriend crapped on it, she shredded the it and applied to law school. The chemistry and exchange between these two was quite entertaining and Abby's description of Hank as a charming man with a lot of dark stuff running through his head was right on point.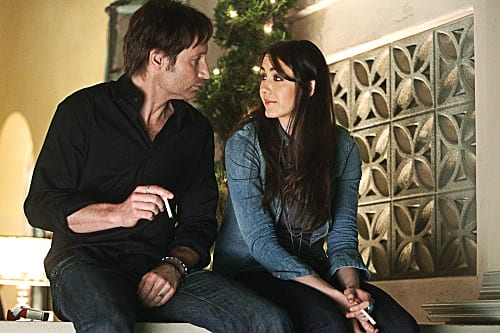 Elsewhere, The Queens of Dogtown covered Alice In Chains's "Would," the lyrics of which were poignant for a number of characters. Has Hank run too far to get home? We know he has made big mistake after mistake, but can he get anyone to see it once his way?
I liked the scene where Ben met Hank and told him not to be
that
guy. He is not susceptible nor has his judgment been jaded by Hank's charm.  Hank was visibly upset, but made a nice move by not tagging along to the post-show dinner with Karen. It was clear she did not want him there and he at least granted her that desired space instead of selfishly inserting himself as the third wheel.
Charlie had the same abrasive doctor that took care of Hank after his accidental over dose and learned from him that the doctor who did his vasectomy recently had lost his license. Loved how he described him as "Weenie Todd the demon urologist of the West Side."
Marci realized that Charlie could very likely be the father of her child.  I have thought that they would get back together at some point. I think the odds of seeing them together again are greater than seeing Charlie get to the one hundred mark in the bedroom.
I really enjoyed the conversation Hank had with Mia on the ledge where he reminisced about going back to 1994, the year he met Karen and Becca was born. Clinton was in the White House, Nirvana was on the radio, blow jobs were free and he had yet to screw up the best thing that ever happened to him. Hank told Mia they both needed to forgive themselves because no one was going to do it for them. He was speaking the truth.
The final scene went from almost being an amazing threesome to a TMZ wet dream, as that punk snapped a picture of Hank and the girls on the bed. I was already feeling the anxiety over the media bashing that most assuredly awaits Hank in the next episode. Until then, enjoy a selection of quotes I noted from this great transitional episode.
Sasha: She's really f**ked up, Hank. I can't wait to play her. | permalink
Mia: Some weed, some wine, some vicodin. I feel like I'm under a wet warm blanket. | permalink
Hank: It looks like a button on a fur coat. Well look on the bright side Charlie, it may be short but it's thin. | permalink
Abby: Hank, you might consider smiling a little more often, it uh, got me kind of wet. | permalink