In response to statements from Charlie Sheen today that were beyond ridiculous - even for him - CBS has suspended shooting on Two and a Half Men.
The sitcom was scheduled to resume filming on Monday, but then Sheen went on The Adam Jones Show this morning and absolutely went off on his critics, creator Chuck Lorre and pretty much society in general.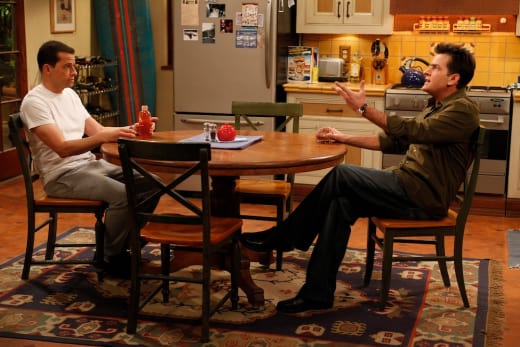 He then spoke to TMZ, challenged Lorre to a fight in the Octagon and added:
"I violently hate Chaim Levine (Chuck Lorre).  He's a stupid, stupid little man and a pussy punk that I'd never want to be like. That's me being polite. All these guys told me to 'clean it up.'  Well this is me cleaning it the f**k up.
All I want is to bring my family together, and I have to deal with all this B.S. politics.
That piece of s**t [Lorre] took money out of my pocket, my family's pocket, and, most importantly, my second family - my crew's pocket."
CBS and Warner Bros. then replied to this insanity with the following statement:
"Based on the totality of Charlie Sheen's statements, conduct and condition, CBS and Warner Bros. Television have decided to discontinue production of Two and a Half Men for the remainder of the season."
Matt Richenthal is the Editor in Chief of TV Fanatic. Follow him on Twitter and on Google+.